News and Notes
RISE® Conference Provides a Lively Week of Discussion Around Innovation in Engineered Fabrics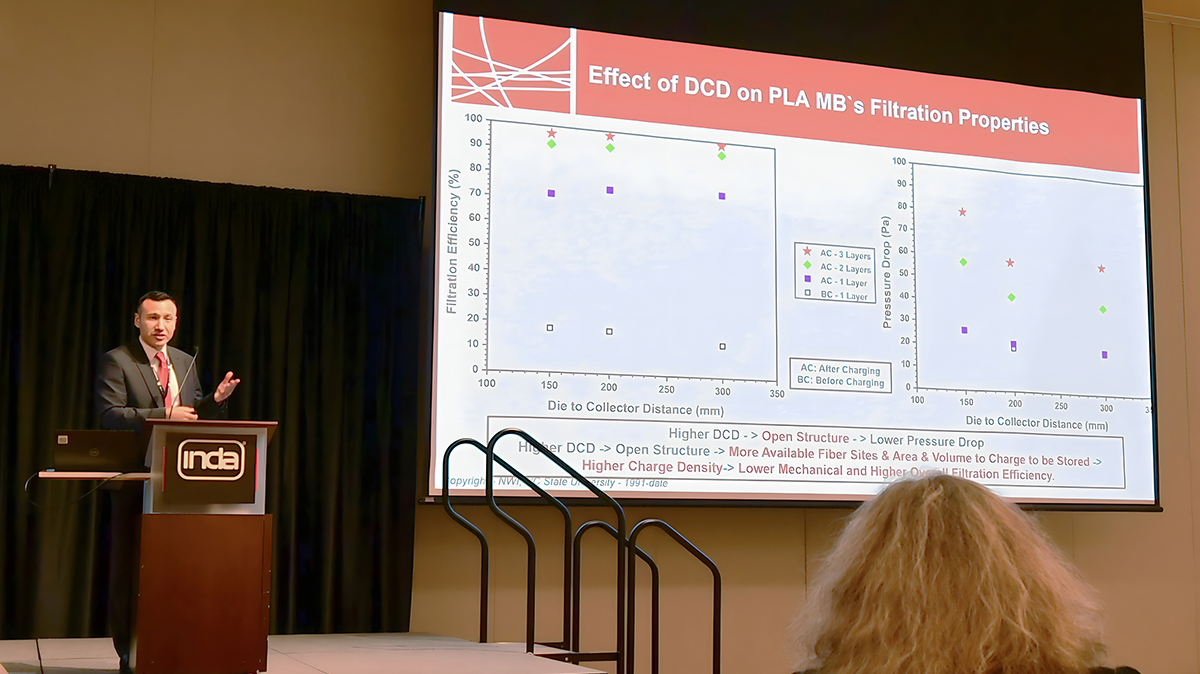 RISE® – the Research, Innovation & Science for Engineered Fabrics conference – was presented this week on the campus of North Carolina State University. Co-organized by INDA, the Association of the Nonwoven Fabrics Industry, and The Nonwovens Institute (NWI), the event featured interesting talks on topics ranging from smart manufacturing for nonwovens to advances in filter media technology, student poster presentations, a tour of NWI's world-class nonwoven production and testing facilities, and a Lifetime Technical Achievement Award, which recognized one of NWI's very own Emeritus Members.
Advances In Filter Media
The "Filtering Innovation" section of the RISE® conference included presentations by two NWI-affiliated researchers.
Mehmet Dasdemir, Ph.D., director of product development at NWI, presented on NWI's research in the area of developing high-efficiency filter media with poly(lactic acid) (PLA). Current air filter products mostly consist of meltblown nonwoven fabric made from petrochemical-based polypropylene (PP). The waste of these products creates a great burden on environmental pollution.
An environmentally friendly alternative for PP can be biobased and biodegradable poly(lactic acid) (PLA). However, there is a very limited study conducted on the processing and properties of meltblown PLA. In this regard, Dr. Dasdemir discussed a study focused on the process, structure and property relationship of PLA meltblown nonwovens aiming for potential air filtration application. The filtration properties of the uncharged and charged PLA meltblown nonwovens were explored and compared with equivalently structured PP meltblown nonwoven counterparts, revealing similar filtration efficiencies and comparative pressure drop values for equivalently structured PLA and PP meltblown nonwovens.
Shyam Prasad Vasudeva Atri, a Ph.D. candidate in the Department of Mechanical and Aerospace Engineering at NC State, presented findings from his current NWI research project related to the efficiency and pressure drop of N95 respirators under particle loading.
The talk considered particles with the size and charge distributions similar to those of the particles used by common filter testers (e.g., TSI 8130). Numerical predictions were compared with the experimental data reported by Balazy et al. (2006) for the initial (clean) efficiency of N95 masks. The aim of this research is to develop a simulation platform for use in the design and development of future facemasks and respirators.
Student Poster Presentations
Following the first day of the RISE® conference on Sept. 26, 13 NWI student researchers presented their work during a poster session at a reception for conference attendees. The students represented a variety of research interests, as they pursue their Ph.D. degrees from a number of different schools and departments across NC State University; highlighting NWI's multidisciplinary approach. Each of the students not only studies under outstanding members of the NC State faculty, but also is mentored during their studies by at least one representative from NWI member companies.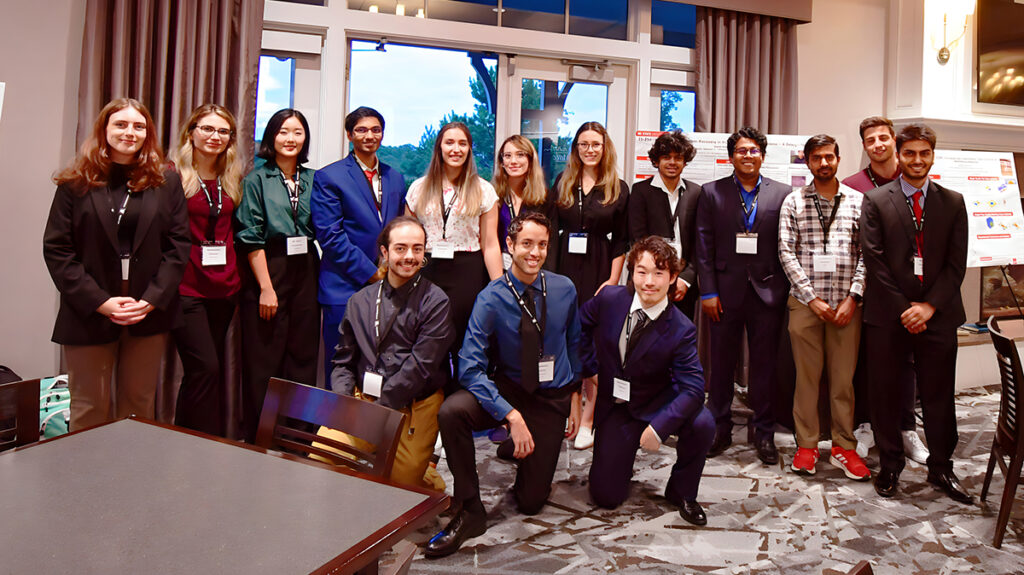 Student poster presentations included:
"Thermal Bonding Mechanism of Polyester and Effects of Additives"
Dominic Garcia, Department of Textile Engineering, Chemistry and Science, NC State
"Numerical Simulation and Experimental Characterization of Nanofibrous Materials"
Mashfiq Rahman, Department of Mechanical and Aerospace Engineering, NC State
"Modeling Compression-Recovery in Multicomponent Nonwovens – A Design Tool"
Shajid Rahman, Department of Mechanical and Aerospace Engineering, NC State
"Understanding the Influence of Molecular Ordering on Wetting Resistance"
Young Jae Kim, Department of Mechanical and Aerospace Engineering, NC State
Learn More About NWI's Student Researchers, here.
Touring NWI's World-Class Facilities
NWI plays a key role in development and transformation of the latest innovations into marketable fiber-based systems ready for shipment to commercial, consumer and industrial users around the world. NWI's fabrication and testing facilities include lab-scale systems dedicated to polymer characterization, fiber extrusion and meltblown, with pilot facilities for bicomponent spunbond and meltblown, staple fiber, fiber spinning, needle punching, hydroentangling, thermal bonding and web composite capability. Analytical and filtration testing facilities offer the ability to analyze and evaluate material performance according to a wide range of industry-specific standard test methods.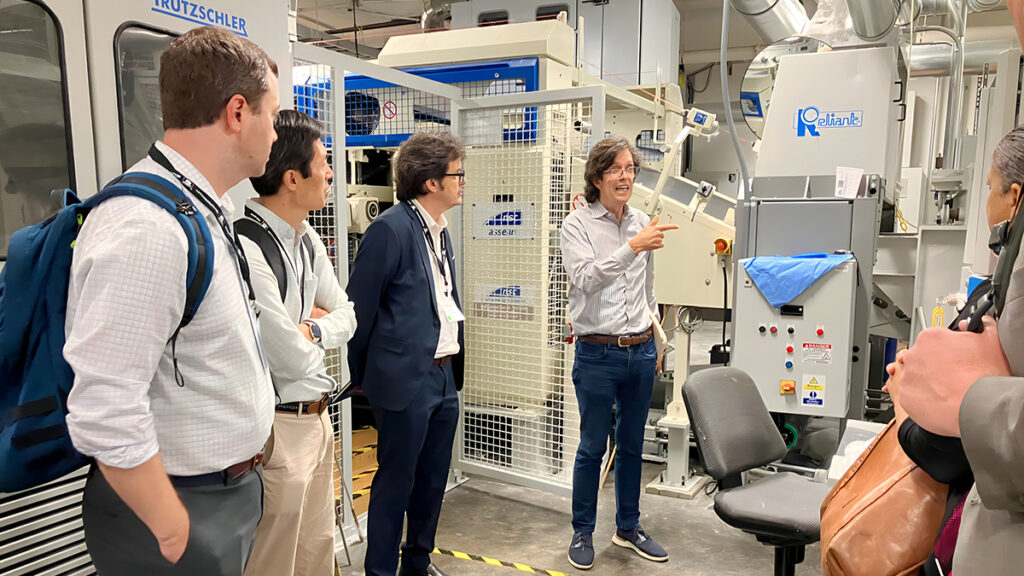 As part of the RISE® conference, attendees were treated to a tour of NWI's world-class nonwoven production and testing facilities. The tour covered NWI's Spunbond and Hydroentanging Lab, Meltblown Lab, Staple/Carded Nonwovens Lab, Fiber and Polymer Science Lab and Filtration Testing Lab.
The tours were led by NWI staff, including lab managers who bring more than 20 years of expertise in a variety of nonwoven production and testing areas.
Ed Thomas Honored with INDA Lifetime Technical Achievement Award
Finally, Ed Thomas, a long-time supporter of NWI, and its predecessor organization, The Nonwovens Cooperative Research Center (NCRC), was honored at RISE® with INDA's Lifetime Technical Achievement Award. Issued annually, the INDA Lifetime Technical Achievement Award recognizes an individual whose technical achievements, over a career of 20 years or more, have meaningfully contributed to the growth of the nonwovens industry.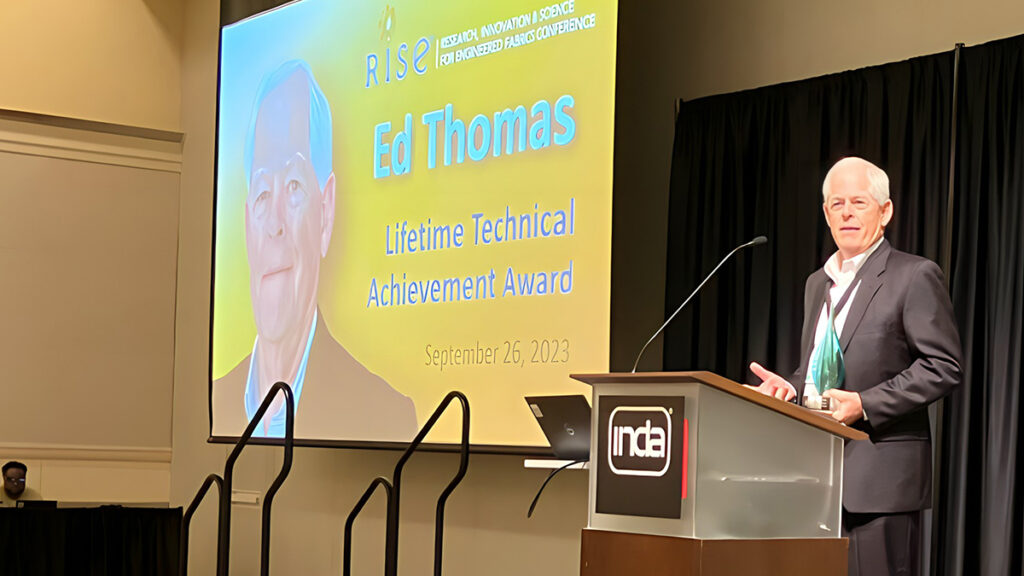 "It is a fantastic honor to receive the Lifetime Technical Achievement Award," said Ed Thomas. "From the very beginning of my journey in this tremendously dynamic industry, I remain in awe of the diversity and innovations that continue to blossom. It has been a true pleasure to participate in and contribute to the technical advances that make nonwovens such an exciting industry."
Ed Thomas retired after 39 years, with 32 years in the nonwovens industry, and has remained active teaching the Intermediate Nonwovens Training Course, presented by INDA and NWI, as well as providing consulting services to the industry.
Thomas's experience includes Process Engineering Manager and Plant Management, DuPont; Technical Director, Reemay; VP of Research and Operations, VP of Operations and Technology, and Global VP of Research and Development for Fiberweb/BBA Nonwovens; and Head of Research and Product Development, First Quality Nonwovens.
Thomas holds 10 U.S. nonwoven patents and he and his teams have been awarded more than 250 patents for numerous and diverse innovations that have played significant roles in the success of the nonwovens industry. These include applications for the global hygiene market, industrial nonwovens, and filtration media.
During his career, Thomas has presented several keynote addresses and papers to industry conferences, participated in NC State University's Nonwovens Cooperative Research Center (NCRC) prior to it becoming NWI, INDA's Technical Advisory Board, INDA's Sustainability Committee, and was Vice Chair of NWI's Industrial Advisory Board prior to retirement and remains an NWI Emeritus Member.
A Vietnam veteran, Thomas received his mechanical engineering degree from SUNY Buffalo.
For more information on the RISE® conference, visit www.riseconf.net.