Spunbond and Hydroentangling Lab
The Nonwovens Institute at North Carolina State University offers state-of-the-art technology and deep expertise in spunmelt nonwovens.
The Nonwovens Institute has decades of experience in spunmelt nonwovens, which in tandem with its in-house Reicofil spunbond line – soon-to-be upgraded to RF5 with full digitalization capability – provides you the opportunity to customize the web path to your specific application requirements. Thus, NWI's Advanced Spunbond and Hydroentangling Pilot Lab also utilizes equipment from supporting partners – including Hills bico or mono filament die packs, two unwinds, an Andritz thermobonding calendar, two Andritz Perfojet hydroentanglement units, a kiss roll, a through-air dryer, and a high-speed A.Celli winder and slitter. Importantly, this system includes in-line electrostatic charging capability (corona).
Following spunbond web laydown, the line offers several bonding methods via a hydroentanglement unit (one pre-entanglement injector, plus two additional injectors), a thermal calendar (includes roll options for 3 bond patterns), two additional hydroentanglement units (each with two injectors), a kiss roll unit, and a through-air dryer. The hydroentangling unit and thermal calendar can also be used in combination. Layers can be added either via a front-end unwind or after the web laydown via an unwind prior to bonding. Finally, the web path concludes with winding and slitting.
NWI can run trials in many configurations, such as single-beam spunbond, and with a variety of fiber arrangements. Fiber options include sheath-core bico, side-by-side bico, or homofilament, as well as more complex cross-sections, such as segmented pie and islands-in-the-sea. Resin options include PP, PE and PET, along with many others, including nylon, elastomers and biopolymers, such as PLA.
If you have questions about running trials at NWI, please email us at nonwovens@ncsu.edu.
If you wish to use the pilot equipment or have some testing done, you will need to have a Fabrication & Testing Agreement in place.
R4/R4s Spunbond – 1.2 m wide
Photo Gallery
NWI Spunbond and Hydroentangling Pilot Lab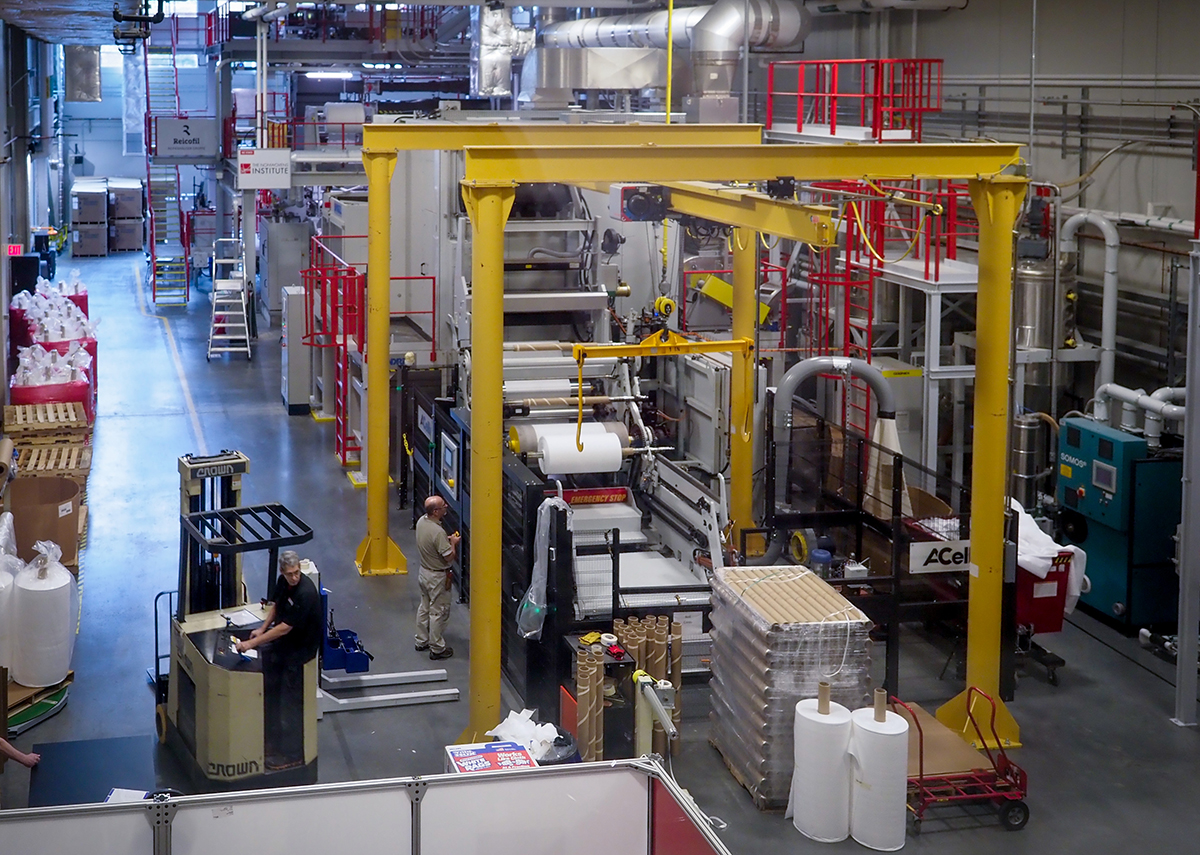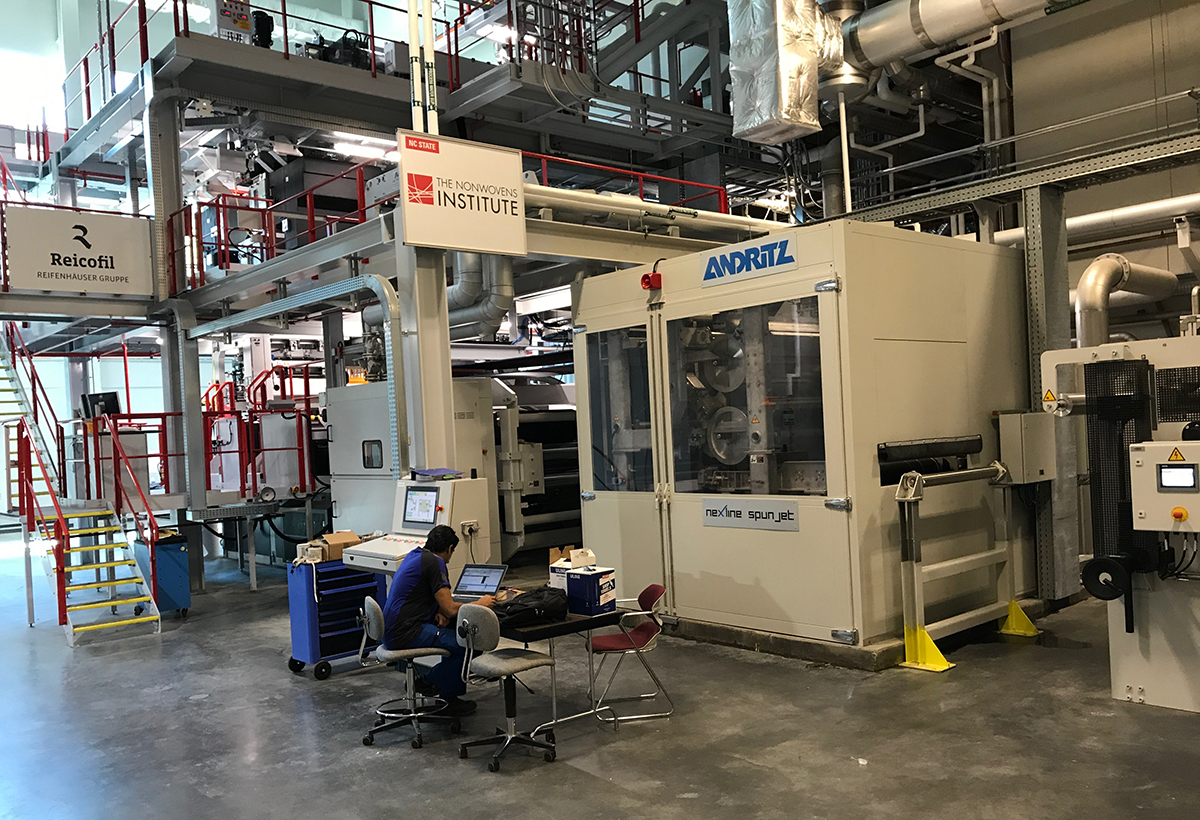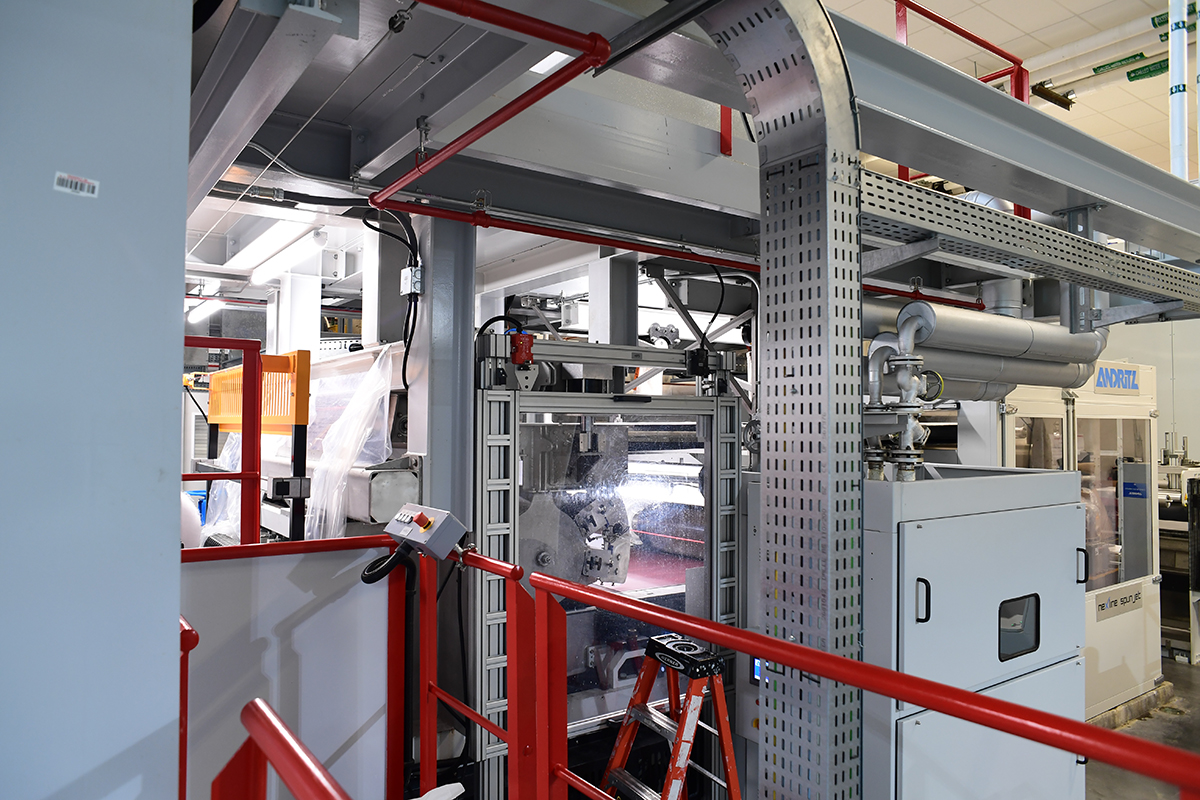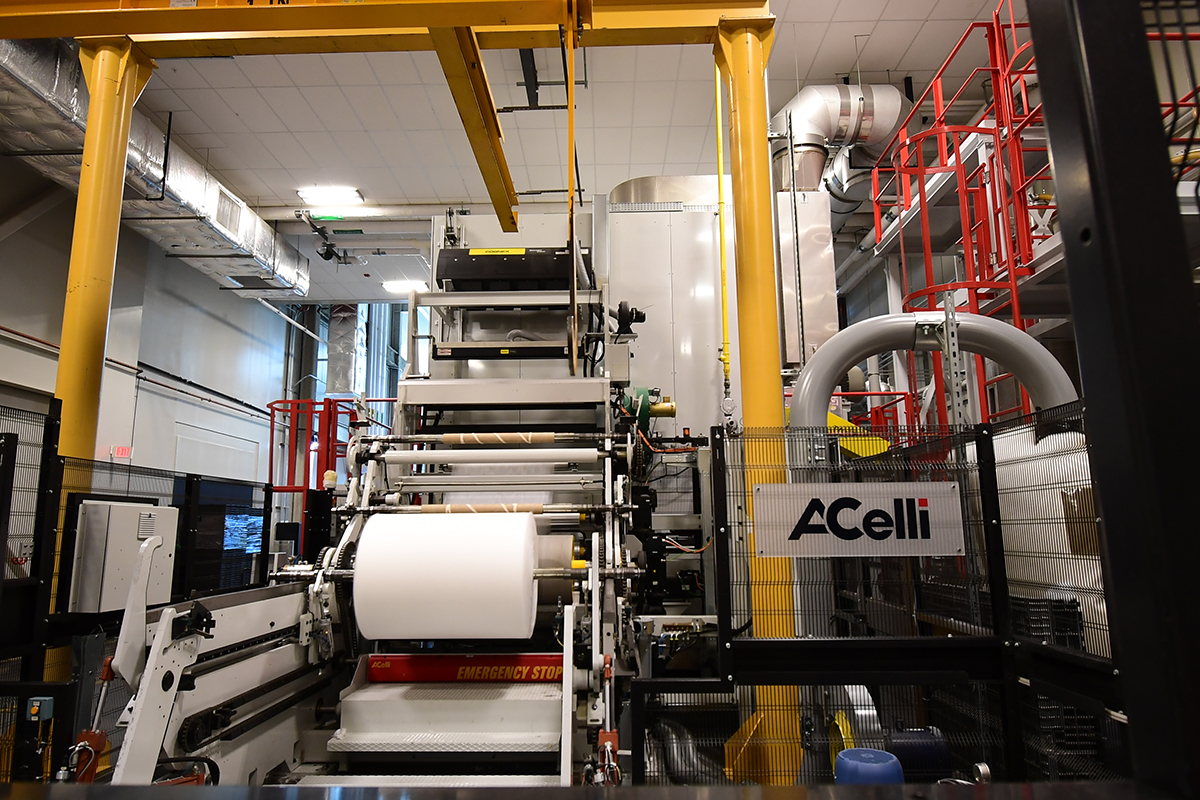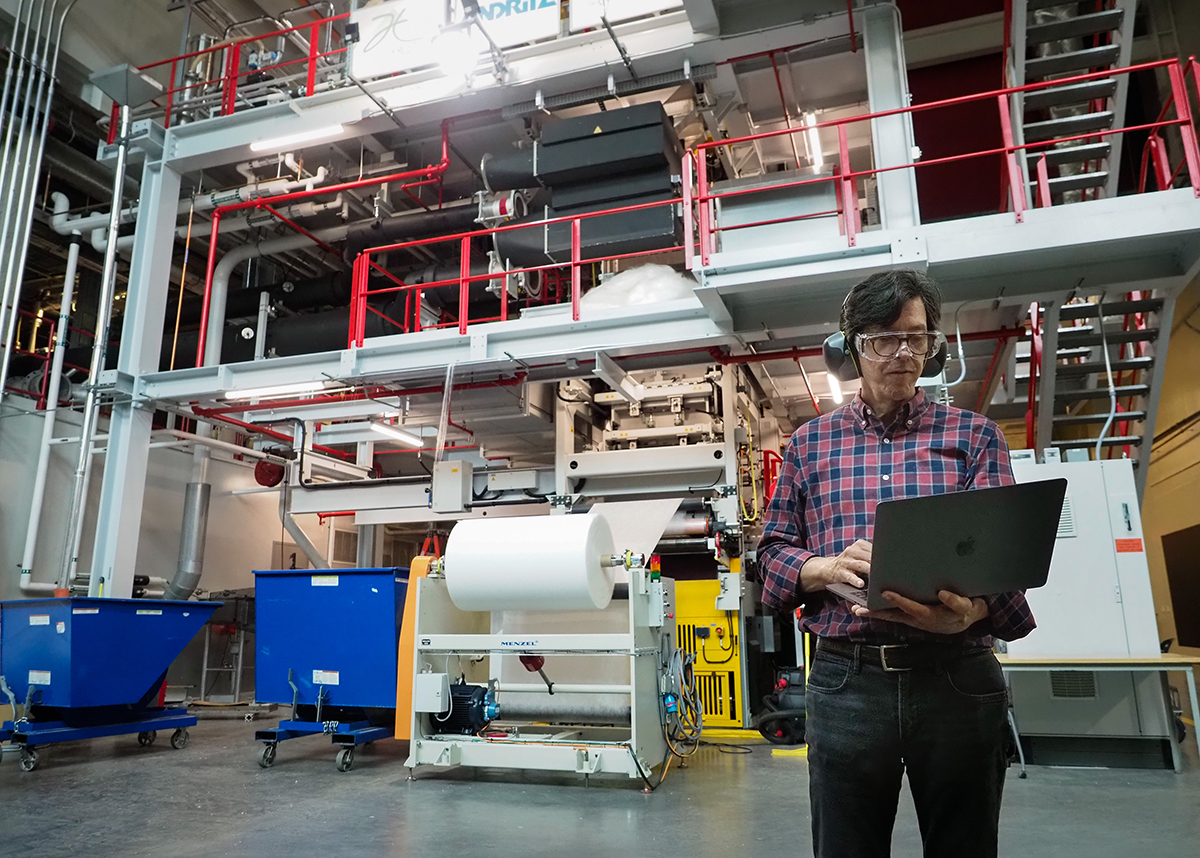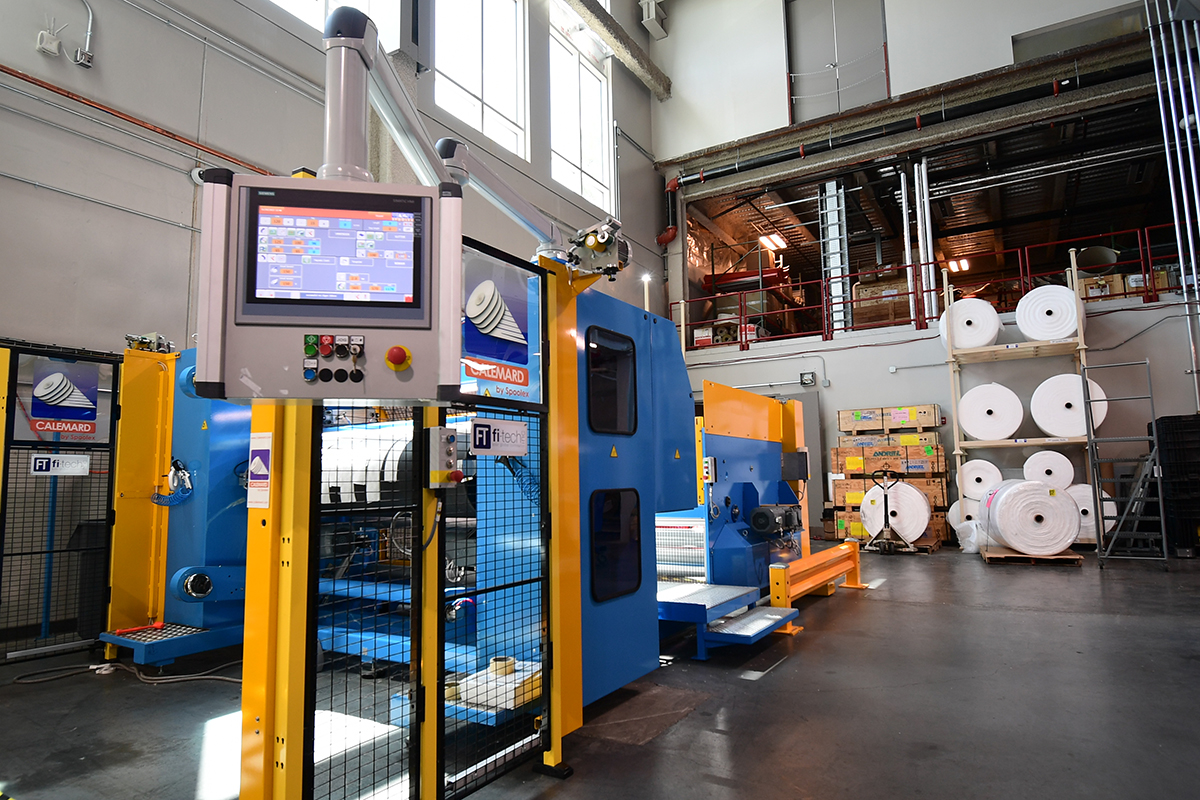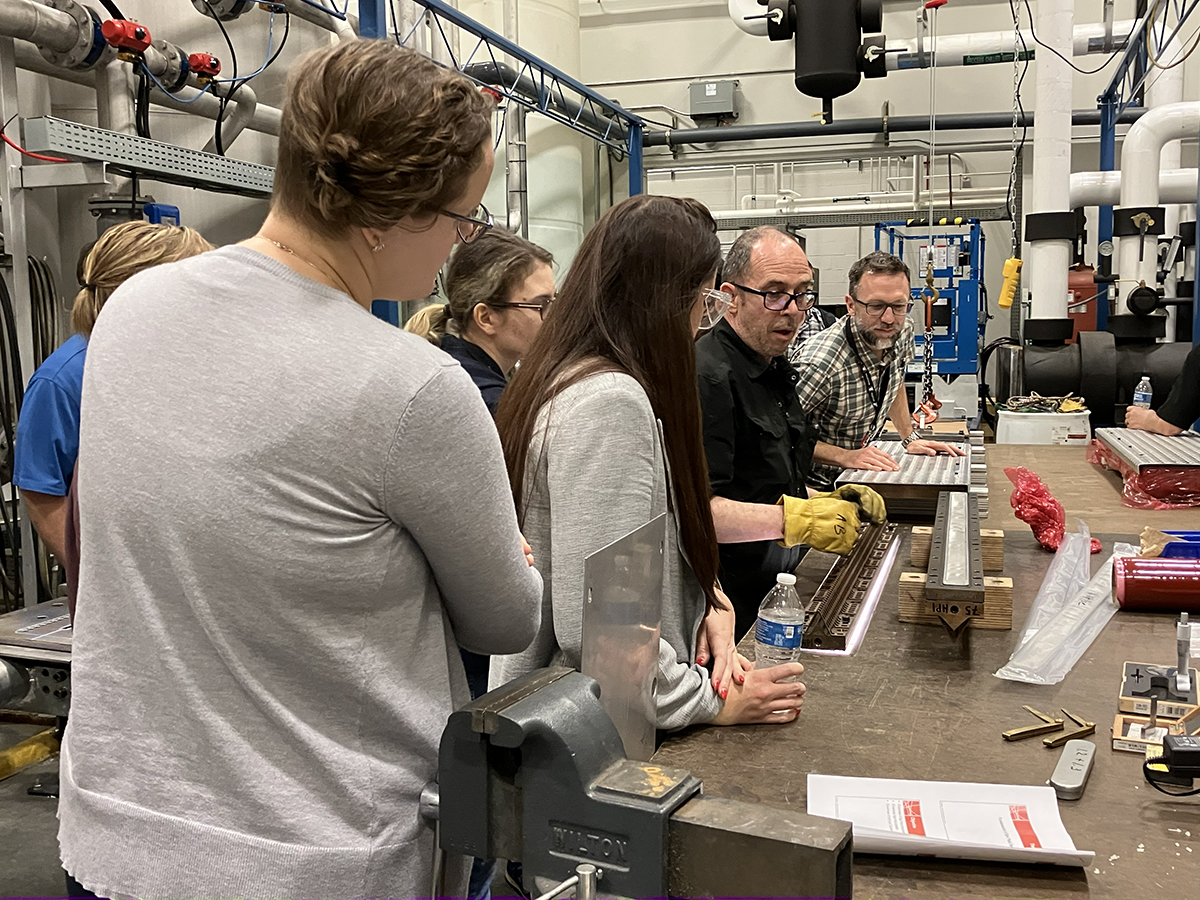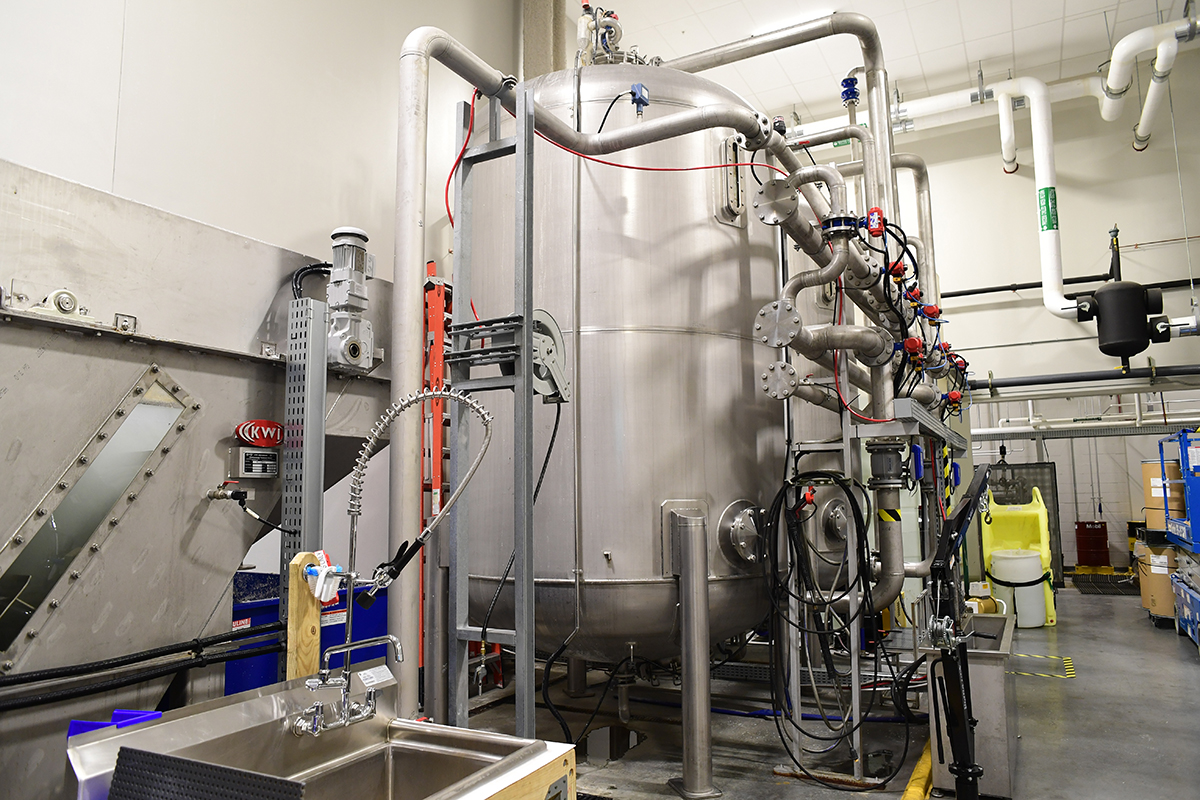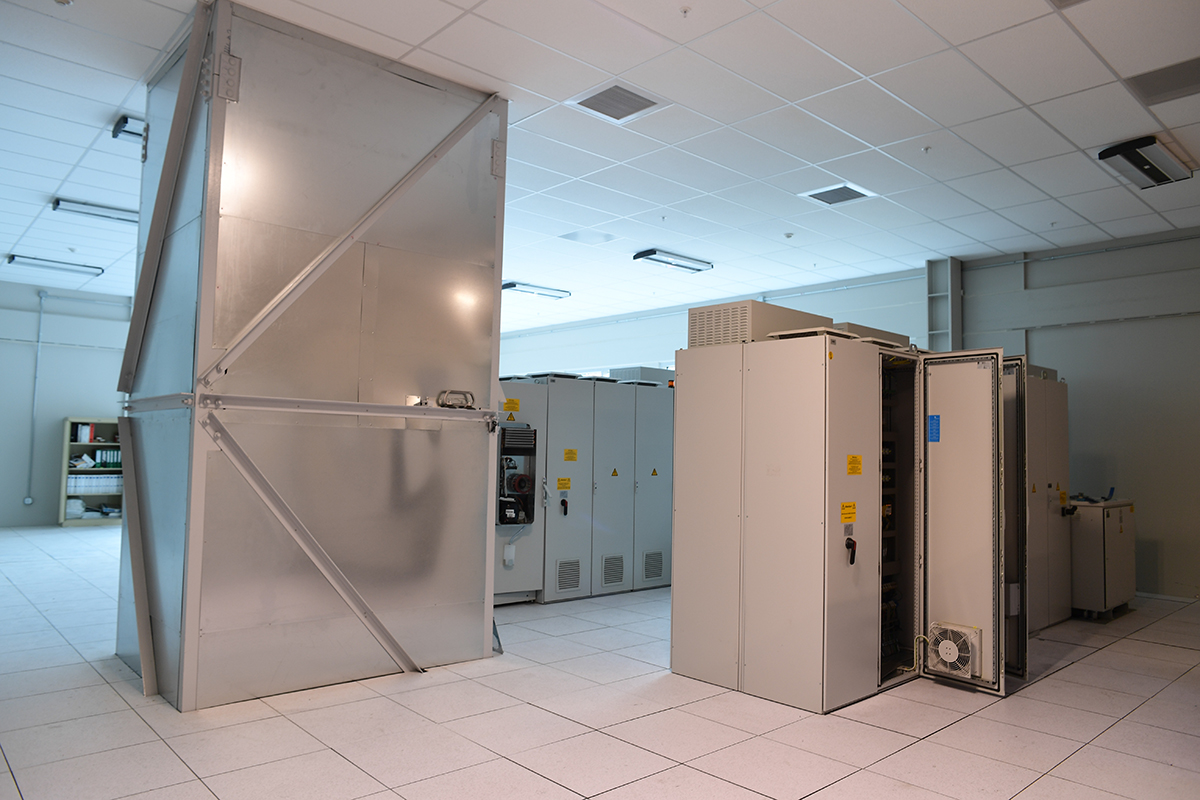 NWI's Spunbond and Hydroentangling Pilot Lab in production.
Equipment Specifications
Reicofil 4/Hills Inc. Bicomponent Spunbond Line
Extruders
"A" – 120.0 mm (4.72"), Single Flight – 30 D
"B" – 80.0 mm (3.15"), Single Flight – 30 D
Resins
PP, PE, PLA, PA & PET Other resins also possible with qualification
Resin Crystallizer & Dryer Units
Max drying capacity of 450 kg/hr
Resin Feeding (2 dosing units)
Unit 1: 3-component dosing, 500 kg/hr output Unit 2: 3-component dosing, 300 kg/hr output
Filament Spinning Speed
Up to 4500 m/min
Throughput
PP: 270 kg/hr/m (595.25 lbs/hr/m)
PET: 400 kg/hr/m (881.85 lbs/hr/m)
Bicomponent Ratios
40/60 to 85/15
Fiber Designs (with Optional Additive add-on)
Homocomponent Bicomponent – Sheath-Core, Side-by-Side, Islands-in-the Sea, Segmented-Pie
Spinning & Web Width
1060 mm (41.73 inches)
Number of Bicomponent Holes (holes per meter)
Sheath-Core via 6861, 5510, 3507 or 2687 Side-by-Side via 6861, 5510, or 2687 Islands-in-the-Sea, Segmented-Pie via 3507
Spinnerets Hole Characteristics
Round 0.6mm diameter, L/D-4:1 Round 0.4mm diameter, L/D-4:1 Trilobal
Denier Range
PP – 2.0-6.0 dpf PET – 1.0-3.0 dpf
Filters
After extruder and in spin pack, wire mesh as required.
Throughput/Hole
0.4 – 1.2 g/hole/min
Made Web Basis Weight Ranges
10 – 200 gsm (Possibly higher depending on bonding) Typical for Calendering – 10-100 gsm Typical for Hydro entanglement – 50-200 gsm
Belt Speed Ranges
20-400 m/min
Calendar Patterns
19.87% bond area diamond/square 18.1% bond area elliptical 12.1% bond area, round
Electrostatic Charging (corona)
4 charging bars, up to -50 kV per bar.
Possible Line Configurations
1-Multiple unwinds included to make composites 2-Spun+Hydro+Hydro (for flexible structure) 3-Spun+Calendar+Hydro (soft thermal bonded) 4-Spun+Calendar (for thermally bonded web) 5-Spun+Oven (high bulk thermal bonded) 6-Water filtration for pulp/cellulose processing
Andritz Hydroentangling & Through-Air Dryer / Bonding System
Width
1100 mm
Manifolds
7 total on 3 drums (includes pre-wet injector)
Orifice Strips
Please reference Lab Guidelines for details
Filtration
Sand and flotation cell
Dryer
Gas-fired Omega up to 260 C
Weight Ranges (Typical)
50-200 gsm
Speed Ranges
20-400 m/min
If you have questions about running trials at NWI, please email us at nonwovens@ncsu.edu.