Fighting COVID-19 with Nonwovens—#Coronafighters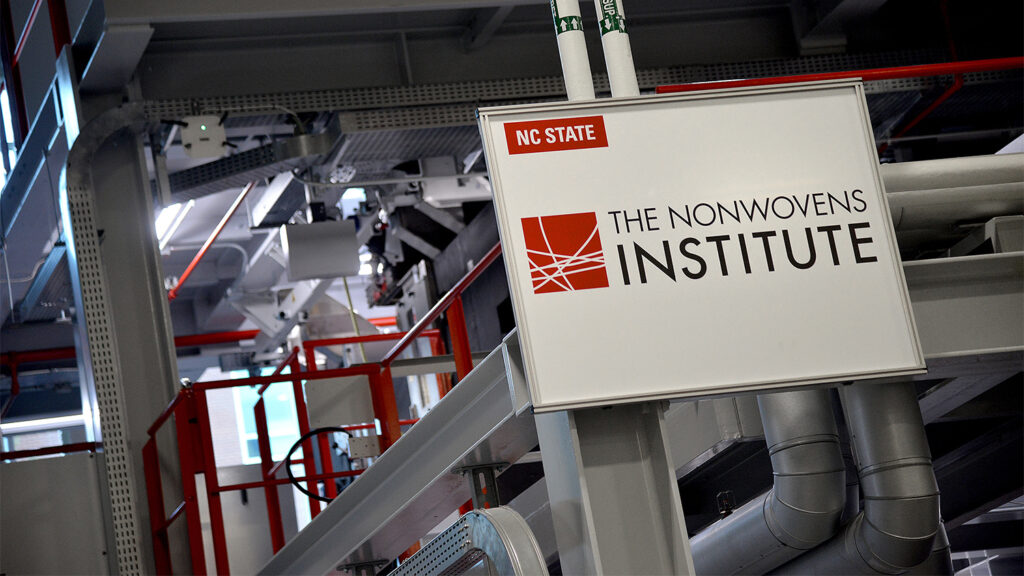 The Nonwovens Institute (NWI) at North Carolina State University is proactively responding to the COVID-19 pandemic. Our aim is to fully leverage and fortify our facilities to produce face masks that are desperately needed in the coronavirus fight. Join the fight and DONATE NOW.
The challenge in the USA and, indeed, the world is a shortage of both the most critical component – the meltblown nonwoven filtration media – and of the converting capacity to make a face mask.
Thus, with the full support of NC State, NWI is dedicating its meltblown and spunbond nonwoven making facilities and expertise to produce specially designed fabrics that can be delivered to USA manufacturers to assemble face masks, and is also investing in new converting equipment to locally assemble ready-to-use face masks for healthcare workers, and for public use. To learn more, please see the detailed description (*updated* 4/24/20) of face mask technologies and products by Dr. Behnam Pourdeyhimi, NWI Executive Director.
NWI is proud to be making a big impact in this crisis. There are many opportunities for collaborators, partners, suppliers, and customers to engage in this fight by contributing to the needs for money, equipment, and materials as captured below.
What's Needed and How You and Your Company Can Help
NEED AREA
Cash Donation (online, check, wire transfer)
Equipment & Materials Donation
WHAT'S NEEDED
Investment support to scale-up nonwoven production, invest in new converting equipment, and increase capacity.
Equipment for production and maintenance, e.g., Reicofil Spare Parts for Production, nonwoven belts, SB and MB resins (polypropylene & PLA), forklifts, and product handling and storage equipment.
IMPACT
Accelerate time to full production of affordable facemasks that make a difference.
Ensures production reliability and resin supply for production.
If you have any questions, please contact nonwovens@ncsu.edu or Lorena McLaren, Executive Director of Corporate & Foundation Relations as lnmclare@ncsu.edu.
Learn More
How Will This Impact Normal Operations and Services at NWI During the Crisis?
NWI is concentrating efforts on forming filter media and facemasks to help in the current crisis.  The Spring IAB Meeting will be held virtually to help keep student research on track.  Access to labs is restricted in this period:
Meltblown and Spunbond Labs: Dedicated to producing filter media for facemasks.
Analytical Lab: Temporarily closed to focus on filtration media production.
Staple/Carding Lab: Temporarily closed to focus on filtration media production.
Fiber Science Lab: Temporarily closed to focus on filtration media production.
Labs and full service will resume when possible.  We look forward to continuing to serve your needs in the future.
"Donating the Ingeo needed for this application was an easy decision," said Rich Altice, president and CEO of NatureWorks. "We wanted to support NWI, our long-time partner, as they create devices that will protect the healthcare workers who will take care of us, our families, our colleagues, and our communities in this crisis."
read more
ExxonMobil has responded rapidly and effectively to an initiative by the Nonwovens Institute (NWI), a long-standing partner since 2008, which was looking for polymers to fabricate specialty nonwoven fabrics used for personal protective equipment (PPE). NWI is supplying the spunbond and meltblown nonwoven fabrics to manufacturers of medical masks, helping essential frontline medical workers get the PPE they need to stay protected against Covid-19.
read more
The Nonwovens Institute (NWI)
is the world's first accredited academic program for the interdisciplinary field of engineered fabrics. Based at the Centennial Campus of NC State University in Raleigh, the NWI is an innovative global partnership between industry, government and academe.
Short Courses
July 21

-

July 24

October 6

-

October 9

October 13

-

October 16
View All Courses