The Nonwovens Institute (NWI) is the world's first accredited academic program for the interdisciplinary field of engineered fabrics. Based at the Centennial Campus of North Carolina State University in Raleigh, the NWI is an innovative global partnership between industry, government, and academe. Operating on an "Open Innovation" platform, the Nonwovens Institute engages experts from industry and higher education in building next-generation nonwoven applications while also providing training and guidance to the field's future leaders.
There are 5 pillars that define the activities of the Nonwovens Institute.  These are: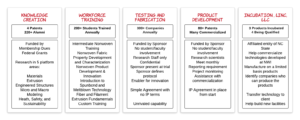 NWI receives its support in the form of membership dues, private research and product development, analytical and pilot manufacturing services. NWI supports over 50 graduate students and is a global leader in nonwovens education, research, and service. The Institute also houses extensive state-of-the-art facilities from fiber formation to fabric formation, coating and lamination, and analytical facilities.  These capabilities are available for product development, analytical services, materials testing, as well as training programs.
"The Institute will be the global leader in research, education, and outreach for nonwovens and affiliated industries." Nonwovens Institute Industrial Advisory Board, 2009
Our Organization Chart can be found at the link below:
You will appreciate the full extent of our capabilities only after a visit.  You'll learn more about our analytical and pilot facilities, our educational programs, speak with faculty and staff, discover our amazing facilities and learn what we can offer.  Please email us at nonwovens@ncsu.edu if you would like to receive a personalized visit.