News and Notes
NWI Dives Deep On Fiber and Filament Extrusion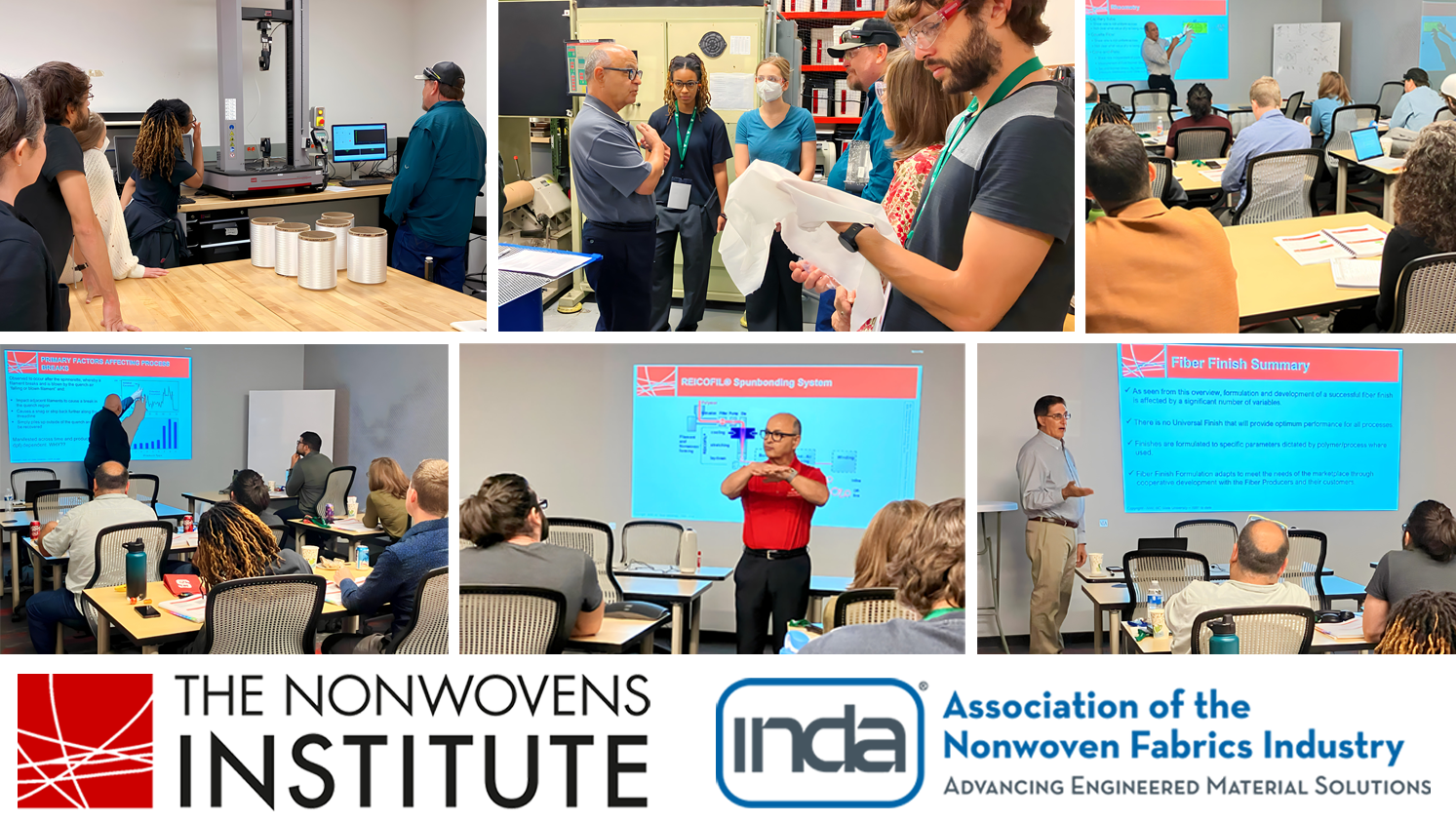 The Nonwovens Institute (NWI), in partnership with INDA – the Association of the Nonwoven Fabrics Industry, presented the popular Fiber and Filament Extrusion Fundamentals Short Course, September 12-14, at NWI's facilities on the Centennial Campus of North Carolina State University. The training combined classroom learning with hands-on activities in NWI's world-class labs to highlight the critical variables and process parameters required to optimize extrusion processes for meltblown, spunbond and staple-fiber nonwovens.
"I think it is safe to say, those who attended the course left with enhanced knowledge and skills to make significant improvements in a variety of nonwoven and filament production scenarios," said NWI Executive Director Behnam Pourdeyhimi, Ph.D., who was among the course instructors. Along with Dr. Pourdeyhimi, the course faculty consisted of:
Carl Wust, Ph.D., FiberVisions – an Indorama Ventures company (ret.) and Member Emeritus of NWI
Hechmi Hamouda, Ph.D., Faculty, NWI, NC State University (ret.)
Charlie King, UNIFI (ret.), and
Amy Minton, Analytical & Physical Testing Lab Manager, NWI
"I liked the depth of material and explantion of fiber processing and fiber testing." – Extrusion Engineer, Leading biotechnology materials company
These experts provided a broad spectrum of experience and viewpoints across many of the processes and technologies that are commercially relevant in the nonwovens industry today.
The course included not only classroom learning, but also plenty of time in NWI's world-class Fiber and Polymer Science and Analytical Testing labs to help enforce learnings and demonstrate how fiber properties evolve during the extrusion process. 
"I thought the course was effective because it combined both industry and academic points of view" – VP of Manufacturing, Leading supplier of nonwoven fabrics
This is but one of the many courses offered throughout the year by NWI and INDA supporting workforce development across the industry. Opportunities include regularly scheduled in-person training, online courses and customized programs.
Based at the Centennial Campus of North Carolina State University, The Nonwovens Institute (NWI) is a partnership spanning the breadth of the nonwovens value chain. Operating on an "Open Innovation" platform and covering the full Technology Readiness Level (TRL) range, NWI engages industry, government and academia to enable next-generation nonwoven solutions to mission-critical challenges.
INDA serves hundreds of member companies in the nonwovens / engineered fabrics industry doing business globally. Since 1968, INDA networking events have helped members connect, innovate and develop their businesses. INDA educational courses, market data, test methods, consultancy and issue advocacy help members succeed by providing them the information they need to better plan and execute their business strategies. INDA Media is the business-to-business publishing arm of INDA and publisher of International Fiber Journal and International Filtration News, which reach a vast network of professionals who employ fibers, filaments, and filtration systems to optimize their application environments. For full information, visit www.inda.org