Industry Leaders are Our Leaders – Celebrating our Strategic Scientific Advisory Board Members
The strong tie between Industry and Academia is a hallmark of The Nonwovens Institute (NWI).  Each of our over 45 Member organizations have representation on the Industrial Advisory Board.  The IAB reviews proposed and existing programs and recommends alternatives or additions and provide review over Institute budgets and policies.  The IAB also elects the Executive Committee which provides higher level member oversight and policy guidance.  The Executive Committee makes recommendations to Institute Leadership with regard to the composition of the Strategic Scientific Advisory Board (SSAB) and collaborates with Leadership to select SSAB members.  Many of the IAB and SSAB members actively mentor NC State graduate students in NWI's nonwovens program and act as ambassadors for the Institute across the industry.
The Strategic Scientific Advisory Committee provides guidance to NWI Leadership with respect to strategic research programs to which thirty percent (30%) of Members' annual dues are devoted.  The SSAB members
Make research focus area recommendations
Review all Strategic-Research proposals and recommends priorities to the Director/Deputy-Directors
Attend the semi-annual meetings of NWI and receives progress reports
Advise the Institute leadership with Strategic Planning
The time and effort contributed by all of the SSAB members is symbolic of the value that their member companies place upon the relationship with NWI.  Each individual is a respected leader not only in their own organization but across the broader industry.  To join NWI, see: https://thenonwovensinstitute.com/join/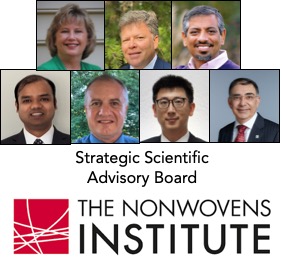 We celebrate the "Sweat Equity" that our member companies and SSAB members contribute to ensure the continued success of NWI.  Our 2022-23 Strategic Scientific Advisory Board members:
DeeAnn ("Dee") Nelson, our SSAB Chairperson, is the R&D and Innovation Manager with Avgol Nonwovens, located in Mocksville, North Carolina, USA.  She is also part of the Indorama Ventures Limited (IVL) Hygiene Vertical Global Innovation group.  Dee received her B.S. in Chemical Engineering from The Virginia Polytechnic Institute and State University and then her PhD in Chemical Engineering specializing in Polymer Science and Engineering from The Georgia Institute of Technology.  She also serves on the Executive Committee of NWI's Industrial Advisory Board.
Bryan Haynes, our SSAB Vice-Chairperson, is the Senior Technical Director for Global Nonwovens at Kimberly-Clark Corporation in Roswell, Georgia, USA. He received his B.S. and M.S. in Aerospace Engineering and Ph.D. in Mechanical Engineering from the University of Tennessee at Knoxville. Bryan also serves on the IAB Executive Committee, has a technical leadership role at several other universities in the southeastern US and currently serves as the Chair for the Board of Directors for INDA; the Association of the Nonwovens Fabrics Industry.
Rajeev Chhabra is Director and Principal Data Scientist, Next Gen Services (NGS), Global Business Services at The Procter & Gamble Company located in Cincinnati, Ohio, USA.  He has spent 20 years in Nonwovens R&D developing materials and processes for diapers, feminine hygiene pads, and wipes prior to his current role in AI/ML modeling and is an Adjunct Professor at North Carolina State University's Wilson College of Textiles.  Rajeev received his B. S. in Textile Sciences and Engineering form the Indian Institute of Technology in Delhi and his Ph.D. in Chemical Engineering from the University of Oklahoma in Norman.
Abhay Joijode is currently Principal Scientist; Global Nonwoven Research & Development at Berry Global, Inc and is located in Charlotte, North Carolina, USA.  Abhay received his Bachelors of Technology Degree from The Institute of Chemical Technology in Jalgaon, Maharashtra State, India, his M.S. in Textile Chemistry for North Carolina State University (NCSU) in Raleigh, North Carolina, USA and his PhD in Fiber and Polymer Science from NCSU.
Randy Kohlman leads Milliken & Company's nonwovens research and development team as Research Manager and is located in Spartanburg, South Carolina, USA.  Randy received B.S. degree in Applied Physics from Xavier University in Cincinnati, Ohio, USA and his Ph.D. in Physics from The Ohio State University in Columbus, Ohio, USA.  He was a Post-Doctoral Fellow at Los Alamos National Laboratory in New Mexico, USA prior to joining Milliken.
Yijian Lin is Senior Technical Service and Development Scientist, Packaging & Specialty Plastics at The Dow Chemical Company and is located in Freeport, Texas, USA.  Yijian received both his B.S and M.S. degrees in Polymer Science from Fudan University in Shanghai, Peoples Republic of China and his Ph.D. in Polymer Science and Engineering from Case Western Reserve University in Cleveland, Ohio, USA.
Prashant Desai is an Emeritus Member of the SSAB having previously served on the board for 10 years.   He is currently Chief Innovation Officer for Fibers at Indorama Ventures PCL and is located in Bangkok, Thailand. Upon completion of his Ph.D. in Chemical Engineering specializing in Polymer Science at Georgia Institute of Technology, Atlanta, USA he joined the faculty there. He was Associate Professor of Polymer Science and Engineering until 1998 when he joined FiberVisions, which is now an Indorama Ventures company.