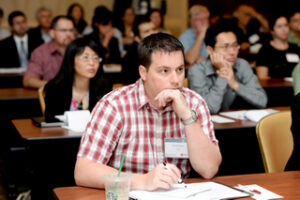 NWI's research consortium serves the nonwovens industry through both fundamental research and an active program of technology transfer. NWI research aims to craft enabling technologies that support strategic R&D efforts by member companies to forge next-generation fiber-based materials and products. At the end of this value-added research pipeline are revolutionary and often life-enhancing products for both industrial and consumer marketplaces. NWI support has, for example, helped spur the creation of technology-rich filtration systems for purifying air, blood and water. The results of the consortium's research are considered proprietary to the organization and its member companies.
Member companies are represented on the Industrial Advisory Board (IAB), and vote on the selection of new projects annually.  The IAB elects a nine (9) member board of directors who serve on the Executive Committee of the IAB.  The Executive Committee meets regularly with the NWI leadership team and provides guidance to the NWI leadership team in terms of policy decisions, strategic planning, etc.  NWI also has a Scientific Advisory Board (SAB) elected by the IAB who provide guidance to the NWI leadership team and the IAB with respect to the research portfolio and priorities in terms of research direction and research infrastructure.
Membership Levels
Membership levels depend on companies gross sales.  Various levels are listed below.  Large companies must select from Full Member II or Full Member I.  Smaller companies can choose to be an Affiliate Member or a Full Member at either I or II by paying the appropriate membership dues.
Full Member I: 

Large companies – sales over $25 million
$ 60,000 per year
60 Points for voting on selecting new research projects
Selects core project (one project every 3 years) – can submit a project – results are shared as with all Members
Minimum 3-year Commitment
Unlimited access to labs at members rate

Full Member II:

Large companies – sales over $25 million
$ 30,000 per year
30 Points for voting on selecting new research projects
Unlimited access to labs at members rate

Affiliate Member:

Sales < $25 MM per year
$ 12,000 per year
12 Points for voting
Limited access to labs at members rate

Startup Member:

$6000 per year
Requires NWI Executive Committee approval
Application must be made within 3 years of incorporation
Membership in this category is limited to 2 years
6 Points for voting
No intellectual property rights or other member benefits
Limited access to labs at members rate
Dues will increase effective at the completion of current membership contracts, and at the start of new membership contracts not already in the queue.
Research topics are suggested by member companies – today, NWI has 5 pillars (defined by the SAB).  These are:
Materials and Materials Characterization

what to use, and how to analyze

Polymer Processing & Extrusion
Engineered Structures
Micro and Macro Modeling

structure-property-process modeling,

Performance modeling, etc…

health, safety, and sustainability
The research carried out as part of the NWI consortium is basic and fundamental and focused on development of know-how as opposed to product development.
The knowledge creation has to be truly focused on knowledge creation and no more. In a shared environment of many diverse sets of interests, we have to focus on basic and fundamental (yet relevant) research that is focused on identifying solutions to specific knowledge gaps – while this may be a piece of the big picture, it can empower our member companies to use such knowledge to innovate and perhaps create the next generation of innovative products that perhaps they could not have done alone. The experiential learning to which our students get exposed prepares them for the corporate (real) world; they are learning the secrets of problem solving and how to breakdown a major problem into manageable pieces, formulating solutions that are based on science and engineering principles. The training and mentoring offered by our corporate members over the 3 to 4 years they spend with us as a PhD student prepares them beyond any university education alone would offer. In our short history, we have some 150 PhDs trained at the Institute who are leaders in various industry segments we serve. This is unique and unprecedented.
Collaborative Governance
Research programs are developed jointly by the NWI's faculty, staff and Industrial Advisory Board (IAB), a priority-setting panel of government and business leaders who have a stake in the NWI's continued success. Representatives of NWI member companies have an equal voice in IAB proceedings. Meeting at least twice per year, the IAB offers feedback and guidance that align the NWI's research functions with the immediate and longer-range needs of the nonwovens industry.
The IAB is a forum for candid discussion of the economic and scientific significance of NWI's current and prospective research initiatives. Equally important is the IAB's role in monitoring the Center's operations and making any updates needed to its Bylaws. The Board sets membership qualifications, for example, and actively participates in the recruitment of new members. The IAB also is a venue in which student and faculty researchers can remain apprised of emerging challenges and opportunities facing the nonwovens industry.
NWI IAB Approved Policies – November 2017
NWI Membership Agreement Template – November 2017