Industry Leaders are Our Leaders – Celebrating our IAB Executive Committee Members
The strong tie between Industry and Academia is a hallmark of The Nonwovens Institute (NWI).  Each of our over 45 Member organizations have representation on the Industrial Advisory Board.  The IAB reviews proposed and existing programs and recommends alternatives or additions and provided  review over Institute budgets and policies.  The IAB also elects the nine-member Executive Committee which provided higher level member oversight and policy guidance.  In addition, the Executive Committee makes recommendations to Institute Leadership with regard to the composition of the Strategic Scientific Advisory Board (SSAB) and collaborates with Leadership to select SSAB members.  Many of the IAB and SSAB members actively mentor NC State graduate students in NWI's nonwovens program and act as ambassadors for the Institute across the industry.
The time and effort contributed by all of the IAB representatives and especially the Executive Committee members is symbolic of the value that their member companies place upon the relationship with NWI.  Each individual is a respected leader not only in their own organization but across the broader industry.  To join NWI, see: https://thenonwovensinstitute.com/join/
We celebrate the "Sweat Equity" that our member companies and IAB representatives contribute to ensure the continued success of NWI.  Our 2022-23 IAB Executive Committee: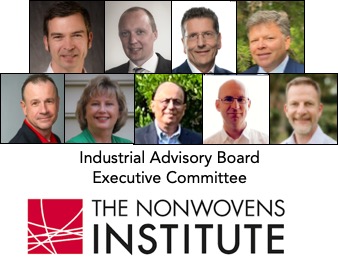 Raoul Farer, our Executive Committee Chairperson, is the Technology Director for Freudenberg Performance Materials in Durham, North Carolina, USA.  Raoul received his B. S. in Textile Science and Engineering from Philadelphia University, his M. S. in Textile Management and Technology and PhD in Fiber and Polymer Science from North Carolina State University in Raleigh and his Masters in Business Administration from Pompeu Fabra University in Barcelona, Spain.
Thomas Broch is the Regulatory and Scientific Affairs manager at Fibertex Personal Care Group in Ålborg, Denmark. He has served in technical leadership roles in Fibertex for over 21 years. Thomas is a graduate of Aarhus University with degrees in chemistry and history and has served the NWI as an Executive Committee member since 2018.
Detlef Frey is the Head of R&D for Reifenhäuser REICOFIL GmbH & Co KG in Troisdorf, North Rhine-Westphalia, Germany. He received his degree in mechanical engineering with focus on Aerospace at the German University RWTH-Aachen. For over 30 years he has worked to develop and improve the nonwoven machinery of Reifenhäuser Reicofil, starting as an R&D and field engineer and being in his current position since 2006. Beside serving the NWI as an Executive Committee member since 2017, he is also in the technical leadership of the ITA, Institut für Textiltechnik of RWTH-Aachen University.
Bryan Haynes is the Senior Technical  Director for Global Nonwovens at Kimberly-Clark Corporation in Roswell, Georgia, USA. He received his B.S. and M.S. in Aerospace Engineering and Ph.D. in Mechanical Engineering from the University of Tennessee at Knoxville. Bryan was recently elected as Vice-Chair for NWI's Strategic Scientific Advisory Board (SSAB). He also has a technical leadership role at several universities in the southeastern US and currently serves as the Chair for the Board of Directors for INDA; the Association of the Nonwovens Fabrics Industry.
Lothar Kaierle is VP Sales Nonwovens at American Trützschler in Charlotte, North Carolina, USA. He received a Bachelor of Science Degree in Mechanical Engineering from "Technical College Aichach" Germany
DeeAnn ("Dee") Nelson is the R&D and Innovation Manager with Avgol Nonwovens, located in Mocksville, North Carolina, USA.  She is also part of the Indorama Ventures Limited (IVL) Hygiene Vertical Global Innovation group.  Dee received her B.S. in Chemical Engineering from The Virginia Polytechnic Institute and State University and then her PhD in Chemical Engineering specializing in Polymer Science and Engineering from The Georgia Institute of Technology.  She was recently elected as Chair for NWI's Strategic Scientific Advisory Board (SSAB)
Perry Potnis is the Technical Leader, Products & Healthcare Services, at the Halyard Healthcare division of Owens & Minor, Inc., located in Alpharetta, Georgia, USA. Perry received his M.S. in Polymer Engineering and Ph.D. in the area of Nonwovens (Textiles) and Polymers Engineering from the University of Tennessee at Knoxville.
Andreas Scope is the Innovation Owner for Air Filtration and Sustainability at MANN+HUMMEL GmbH in Ludwigsburg, Germany. He has more than 20 years of experience in filtration and separation and has served in technical leadership roles in MANN+HUMMEL for over 10 years. Andreas received his degree and PhD in Chemical Engineering from Technische Universität Bergakademie Freiberg, Germany.
Derek Thurman is the Global Product Development Technology Manager for the polypropylene, Vistamaxx™ polymers and Exact™ plastomers portfolio of the ExxonMobil Product Solutions Company, a Division of Exxon Mobil Corporation and is located in Baytown, Texas, USA.  He received his B.S. in Chemistry from Abilene Christian University and his Ph.D. in Chemistry from The California Institute of Technology.