Student Poster Presentations at 2020 RISE® Conference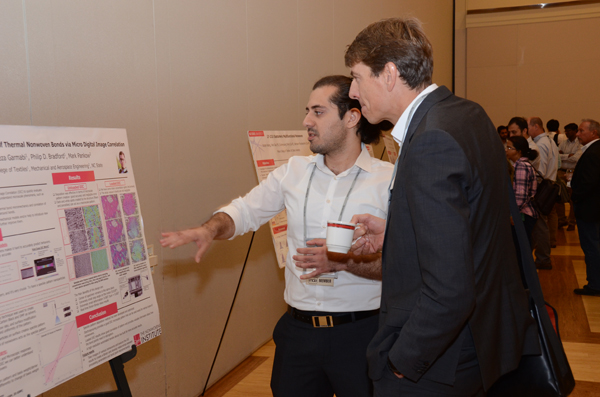 Providing students with the opportunity for exposure to both excellent academics and industry professionals is one of the greatly appreciated characteristics of the Nonwovens Institute (NWI).  During the Institute's 2020 5-year Review, several students interviewed by the review team commented upon the strength of the faculty associated with NWI and the linkage between industrial members of The Institute and their research work."  Students commented that "NWI offers us an opportunity to work with 'real world' experts and technical leaders to a far greater degree than our peers."
At the upcoming RISE® conference to be held on the NC State campus September 27-28 students will again have the unique opportunity to interact with some of the most innovative minds in the field of Engineered Fabrics.   Eight students will be presenting their work in a poster session from 8:30am – 5:00pm at the Talley Student Union offering conference attendees and students alike to interact and discuss their work.  These students represent a variety of research interests and come from a number of different Schools and Departments across the University; highlighting NWI's multidisciplinary foundation.  Each of the students not only studies under outstanding members of the NC State University faculty but is also mentored during their studies by at least one representative from NWI member companies.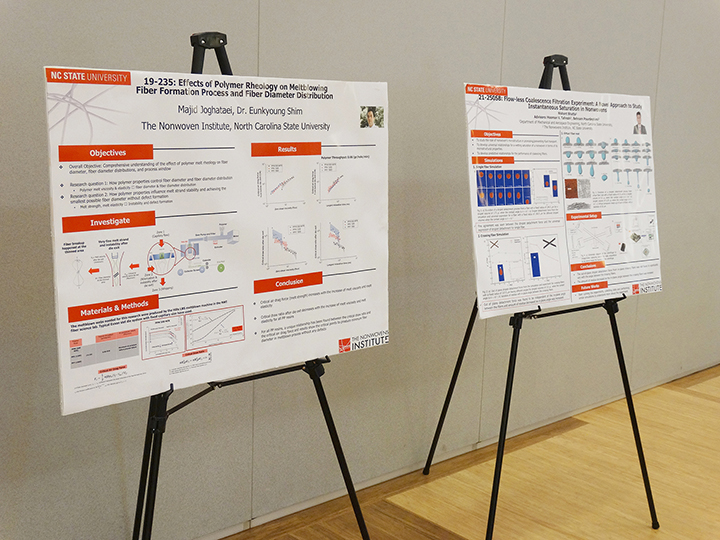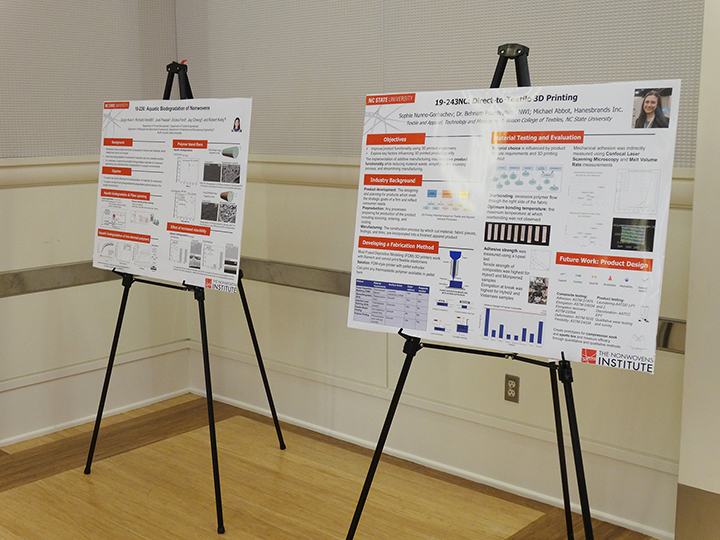 The RISE® conference, organized by INDA – the Association of the Nonwoven Fabrics Industry, is in its 12th edition as it returns to an in-person format in 2022.   INDA serves hundreds of member companies in the nonwovens / engineered fabrics industry doing business globally. Since 1968, INDA networking events have helped members connect, innovate and develop their businesses. INDA educational courses, market data, test methods, consultancy and issue advocacy help members succeed by providing them the information they need to better plan and execute their business strategies. INDA Media is the business-to-business publishing arm of INDA and publisher of International Fiber Journal and International Filtration News, which reach a vast network of professionals who employ fibers, filaments, and filtration systems to optimize their application environments. For full information, visit www.inda.org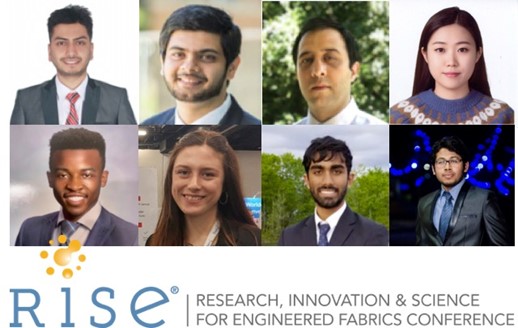 Nishant Bhatta – "Flow-less Coalescence Filtration Experiment: A Novel Approach to Study Instantaneous Saturation in Nonwovens."  Nishant is a student of Dr. Hooman Tafreshi in the School of Mechanical and Aerospace Engineering and is mentored by Dr. Andrea Scope of Mann+Hummel. His work studies the role of nonwoven's microstructure in promoting/preventing fluid transport, development of relationships for the wetting saturation of a nonwoven in terms of its microstructural properties and developing predictive relationships for the performance of coalescing filters
Pallav  Jani – "Evaluation of Interactions between Slip Additives and Hydrophilic Finishes in Polypropylene Nonwovens." Studying Chemical & Biomolecular Engineering, Pallav is a student of Dr. S. Khan and is mentored by Dr. Thomas Broch, Dr. Tan Siew Kim and Mr. Daniel Ellingson all of Fibertex Personal Care Group.  His work seeks to investigate the effect of slip additive migration kinetics on friction and wettability, develop a method to study surface slip additive-surfactant finish interactions and to correlate surface interactions to nonwoven-skin friction and top sheet performance
Majid  Joghataei – "Effects of Polymer Rheology on Meltblowing Fiber Formation Process and Fiber Diameter Distribution."  Dr. Joghataei is a Graduate Research Assistant at NWI.  In this project, he is guided by Dr. Eunkyoung Shim and receives industrial mentorship from Dr. Jeffrey Krueger of Kimberly-Clark, Mr. Pablo Sanchez from Andritz Fabrics & Rolls, Dr. Detlef Frey of Reifenhäuser REICOFIL, Drs. Yijian Lin and Jef van Dun of Dow Chemical, Dr. Nemat Hossieny of NatureWorks, Dr. DeeAnn (Dee) Nelson of Avgol Nonwovens and Dr. Holly Rauckhorst from Proctor & Gamble.  Majid is investigating the effect of polymer rheology (elasticity, viscosity) on fiber diameter and fiber diameter distribution, melt strand instability and the on-set point of process failure at minimum fiber diameter as well as the influences of die geometry on instability development, minimum fiber diameter and fiber diameter distribution.
Soojin Kwon – "Aquatic Biodegradation of Fiber/Bio-based Polymers for nonwoven application."  Soojin is a student of Dr. Richard Venditti in the Forest Biomaterials Department and receives industrial mentorship from Drs. Carl Wust and Shae Brown both of FiberVisions, Dr. DeeAnn (Dee) Nelson of Avgol Nonwovens, Dr. Patricia de Leon of Donaldson, and Dr. Tino Meyer of Adidas. Her work is to identify biodegradable materials that enhance the biodegradation of nonwovens using a polypropylene / Polyhydroxybutyrate (PHB)  / compatibilizer system.
Zviko Machikiti – "Formation of high-surface area nonwovens via fracturing/fibrillation:  Reducing polymer/polymer interface adhesion to facilitate fracture". Studying Chemical and Biomolecular Engineering, Zviko is a student of Dr. Kirill Efimenko and is mentored by Drs. Yijian Lin of Dow Chemical and Dr. Kuan-Yin Lin of 3M.  His work focuses upon identification of suitable chemical species that bind to polyamides and decrease their tendency to bond with polyesters, establishing methods to measure the strength of adhesion between polyester and modified polyamide and to determine the degree of splittability of bicomponent fibers so modified.
Sophie Nunno-Gorbachev –  "3D Printed Polymer Applications for Garments". Studying Textile Technology Management in NCSU's Wilson College of Textiles, Sophie is a student of Dr. Behnam Pourdeyhimi and is mentored by Messrs. Michael Abbott and Colin Holloway of Hanesbrands where she has also been serving as a research and development intern.  Her work seeks to develop methods for 3D printing onto textiles, understand its viability in a commercial manufacturing setting and to develop cost models for such a process.
Himendra Perera – "Segmented Hollow Fiber Formation". Himendra is a student of Dr. Saad Khan in NCSU's Department of Chemical and Biomolecular Engineering and is mentored by Dr. Carl Wust of FiberVisions, Dr. Francis Porbeni of 3M, Dr. DeeAnn (Dee) Nelson of Avgol Nonwovens and by Drs. Perry Pontis and Jeff McManus both of Halyard Healthcare.  In his work, Himendra endeavors to determine rheological and viscoelastic parameters of polymer blends and composites, explain weld mechanics between fibers via diffusion  analysis and to develop a computational fluid dynamics (CFD) model describing the hollow fiber extrusion and melding process.
Mashfiq Rahman – "Simulation and Experimental Characterization of Nanofibrous Materials".  Mashfiq is a student in the Department of  Mechanical and Aerospace Engineering and a student of Dr. Hooman Tafreshi.  He is mentored by Drs.Maxim Silin, Farzad Rezaei and Hasan Sadeghifar from Hollingsworth & Vose and by Dr. Carl Wust of FiberVisions.   His work is to understand the relationship of properties of an electrospun mat to the processing conditions by simulations using electrospinning modeling code, training a machine learning model for prediction, using the model for an inverse design and performing experiments to validate the simulation and machine learning.