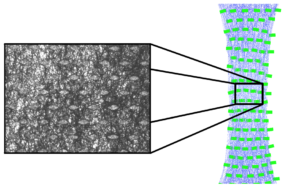 The Nonwovens Institute (NWI) views education, research, and outreach as critical components of our mission. The Institute was founded to support the nonwovens and affiliated industries in fundamental research, product development, and technology transfer. NWI has a long and distinguished history of partnership with the industry in North Carolina, the region, the nation and globally. Outreach, economic development, engagement, and extension are integrally coupled with our research and teaching.
The Institute strives to be a global leader in the basic and applied sciences, engineering, and technology transfer in fiber and polymer science, surface science, micro, and macro modeling and new product development. NWI works with industry, government, and partners through fundamental research, product development, testing and fabrication services.
We follow the concept of Technology Readiness Level to frame all our activities.
Research falls into a number of categories.
Pre-competitive Research (also referred to as Core Research) – shared with all members 
Pre-competitive research falls in the TRL 1-4 category and is carried out with the intent to develop knowledge and know-how for member companies often titled "core" projects.  These research activities engage our network of faculty and are means by which we train the future leaders for our industry.  Our graduates will be equipped with the knowledge and know-how required to succeed in the corporate environment, while the results will enable the member companies to innovate by finding solutions to some of our grand challenges.
These projects are only shared with current members of the NWI Consortium and elements of these projects become public only after the student graduates.
Research topics are suggested by member companies – today, NWI has 5 pillars (defined by our Scientific Advisory Board). These are:
Materials and Materials Characterization

what to use, and how to analyze

Polymer Processing & Extrusion
Engineered Structures
Micro and Macro Modeling

structure-property-process modeling,

Performance modeling, etc…

health, safety, and sustainability
Core projects are not designed to result in IP and that is no accident – we focus on pre-competitive science and engineering and not product development as part of our shared research activities. In our history from 1991, we have no more than 4 patents that have come about from the core research. This is a key element in our success – we are fulfilling our mission of knowledge generation, training future leaders for the industry and beyond in a shared environment without creating any unnecessary conflicts and without being focused merely on IP generation, spin-offs and the like. This model works – our network of competitors and the entire supply chain are at the table and the research is focused on solving grand challenges that everyone faces. The IP will ultimately arise from how one would use the information generated from these research activities.
These projects typically last 3 to 4 years and students will be pursuing a PhD program.  All projects require members as mentors/advisors on the project.  NWI will cover all expenses for the projects from its State allocation, membership dues and other discretionary funds.  The results are shared with all members.  The IP is governed by the Bylaws.
Our core programs are strongly focused on knowledge generation only and that has become the hallmark of how we manage our shared environment – all of our members contribute to the agenda, the discussions, the identification and ultimately, the selection and stewardship of our core research agenda. This model works in a shared environment that has to be relevant but non-competitive and only if we achieve operational excellence in:
Transparent communications
Collaborative environment
Competitive Research (also referred to as Non-core Research or Product Development) – shared only with the sponsor)
Non-core sponsored activities fall in the TRL3-7 category and are carried out typically for a specific sponsor outside of the core activities and the results are only shared with the sponsor. We see non-core activities as an important component of our mission in that they help with the bigger role we can play in terms of technical assistance provided to corporations that results in economic development, wealth creation and more importantly, job creation… We have instituted a program dealing with such activities some time ago that help translate science into reality and are designed to move technology towards market using a decision making process based on sound stage-gate processes.
Our guiding principals are that such programs must be transformative in that the new product or activity:
Challenges what is possible
Disrupts existing learning curves
Leaps beyond today's technologies
Therefore, we do not engage in reverse engineering or helping create a me-too product. In the last 15+ years, we have been quite successful at creating some new products/processes and these have led to a number of patents and commercial products. These activities are driven towards using our know-how and the knowledge gained over the years to help develop a new product/process and inevitably, these activities lead to patents. The net result is that we have many more patents arising from non-core research programs sponsored by individual companies.
These projects typically follow the stage-gate process with well-defined milestones, deliverables, and payments.  Each project is different, but in general, the budget will cover labor, materials, labs and university overheads.  The Sponsor is responsible for all costs incurred.  IP terms are negotiable.
For more information about research and custom projects, please send an email to NWI questions.