Reicofil Sponsors the 30th Anniversary Celebration for NWI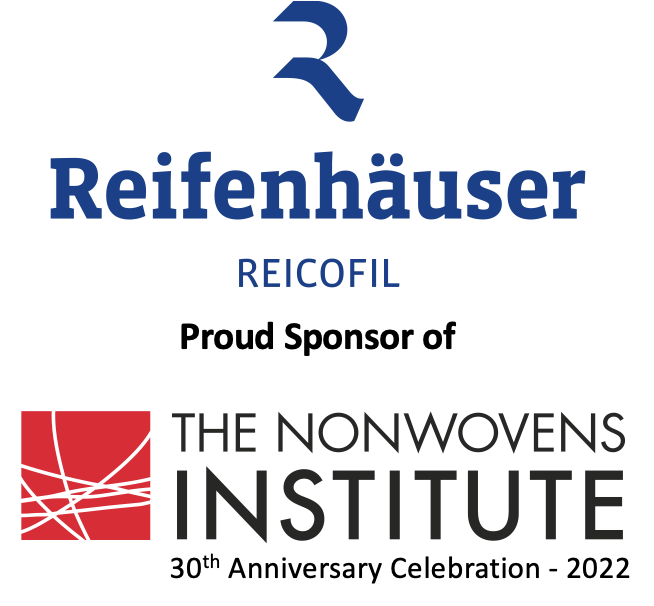 In the years following its inception in 1991, The Nonwovens Cooperative Research Center (NCRC) was on a path of first establishing itself and then growing capability and membership. In 2003, the first educational programs were established leading to the offering of The Graduate Certificate in Nonwovens and attracting PhD students from several Schools and Colleges at North Carolina State University (NCSU) . As one prospective member noted, "The strong and vibrant tie to the campus and academic life at the University is a strong selling point for NCRC." With over 260 alumni NWI, along with NCSU and partnering universities, are established leaders in supporting the nonwovens industry with deep technical expertise.
By 2006 the NCRC had grown to be the largest IUCRC nationally with more than twice the national average for membership dues, and more than five times the national average for a number of members. Thus, NCRC had grown to be more than a Center with best-in-class educational and research programs. This lead to the proposal to "graduate" to Institute organizational status as a means to facilitate continued growth and capability to meet the needs of the growing nonwovens industry. By 2007, the proposal to establish The Nonwovens Institute (NWI) from NCRC was approved by the university and the Board of Trustees.
Capabilities were also expanding. A Microscopy and Image Analysis Lab, Simulation and Computational Fluid Dynamics Lab and Chemistry and Polymer Analysis Lab were established and another multi-million dollar investment for a new Staple Fiber Lab with Carding Line was being planned. Subsequently, the Board of Trustees approved that NWI would report to the Vice Chancellor of Research and Innovation to establish NWI as a fully interdisciplinary unit on campus.
Over the years NWI has continually responded to the needs of the nonwovens industry with education, research, and industry services that span the range from fundamental research, to proof of concept, to market commercialization. From this emerged services that include (1) a fundamental nonwovens research portfolio where industry member topics are worked by faculty and students, (2) workforce development training courses that offer best-in-class nonwovens training courses for professionals, (3) state-of-the-art nonwoven making and testing labs spanning a range of nonwoven technology platforms (from small, to lab, to large pilot scale) and analytical testing options, (4) confidential contracted technical and expert assistance in new product development to about new opportunities, and (5) help to commercialize nonwoven technologies through NWI's manufacturing incubator LINC and subsequently help with technology transfer, building new facilities, and creating supply chains.
NWI is the world's first accredited academic program for the interdisciplinary field of engineered fabrics. Based at the Centennial Campus of NC State University in Raleigh, NWI is an innovative global partnership between industry, government, and academia. NWI has over 45 member companies / organizations spanning the breadth of the Nonwovens value chain. https://thenonwovensinstitute.com
Reifenhäuser Reicofil GMBH & Co KG has been a member of NWI since 2007 and is proud to have supported the Institute over the years including through the volunteer efforts of its employees in NWI Leadership roles. Currently, Detlef Frey, Head of Reicofil Research & Development serves as a member of the Executive Committee of the Industrial Advisory Board (IAB). The IAB provides membership oversight, program review and policy guidance to the Institute. Reicofil nonwovens manufacturing technology is found at NWI in the 1-meter meltblown line and the 1-meter Reicofil 4 spunbond line that are available for research, training and prototype manufacturing.
Reicofil technology was introduced to the nonwovens industry in 1986. The fact that the original spunbond line is still running today is a testimony to the technology's performance. A continuous focus on process improvement led to the introduction of the latest-generation Reicofil-5 process in 2017 setting new standards in Quality and efficiency for high-volume markets. The Reicofil-SMART technology was also introduced in 2017 with a focus on emerging markets and producer market entry. Both concepts serve the trend toward comfortable, soft and bulky fabrics. Today, the Reifenhäuser Group is advancing the concept of "digitalization" which permits further optimization of nonwoven and film production processes. Digitalization makes the Reicofil line easier to operate while also increasing system availability, product quality, output, and efficiency. The "C-Hub Middleware" is a powerful platform tailored to the nonwovens industry that helps producers connect and harmonize data between different assets, machine types and applications.
Reifenhäuser Reicofil, based in Troisdorf, Germany, supports customers from the concept, definition and planning of the production line, line commissioning through to further product development. The company's 50 years of experience, 250+ employees and expertise guarantee unique quality and reliability respected by major brand owners. https://reifenhauser.com/en/company/reifenhauser-group/reicofil
The Reifenhäuser Group is the leading provider of innovative technologies and components for plastic extrusion. Founded in 1911, the company supplies high-technology solutions all over the world. With its technologies and the know-how of its 1,750 employees, Reifenhäuser has the world's largest network of expertise in plastics extrusion technologies. https://reifenhauser.com/en/