NWI & INDA provide training to industry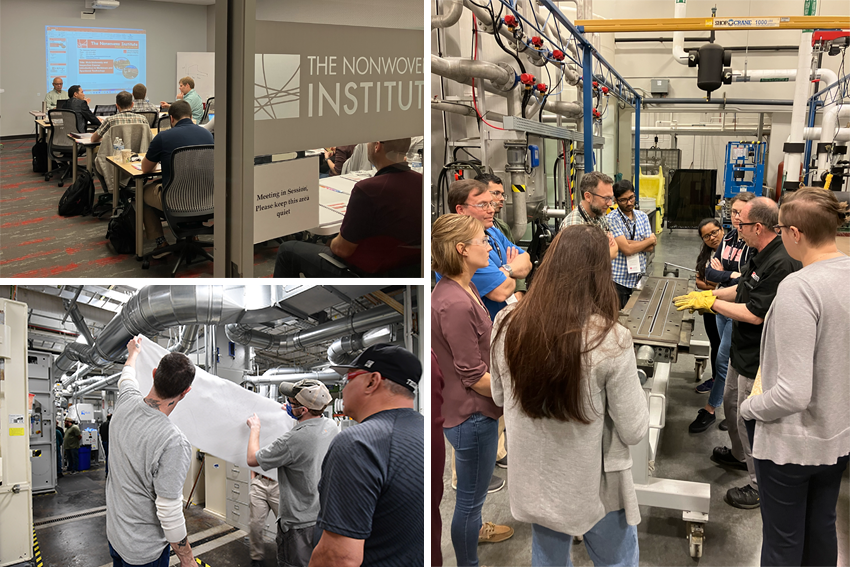 During February and March, nearly 40 professionals from across the nonwovens industry attended training courses co-sponsored by the Nonwovens Institute (NWI) at North Carolina State University in Raleigh and INDA – The Association of the Nonwoven Fabrics Industry. Each participant had the opportunity to expand their knowledge of nonwovens and the technologies behind them through an exploration of the relevant processes, technologies, chemistries, and raw materials – including process equipment tours and demonstrations.
The "Intermediate Nonwovens Training Course," presented in February, provided a bridge for experienced nonwovens practitioners between INDA's Elementary Nonwovens Course and the more advanced courses offered by NWI and INDA. One of those more advanced courses, "Spunbond and Meltblown Technology" was offered in March, providing a deep dive into the processes most commonly used to produce spunmelt nonwovens.
Course participants responded positively to both programs:
"I was excited to take this course due to many of my colleagues' positive input. It really did meet and exceed my expectations." – Supply Chain Manager, Global Nonwovens Producer.

"I love the ability to network with other individual industry members" – Account Manager, Global Nonwovens Producer.

"The topics of the training and technical information were excellent. All speakers were very prepared and always available to interact with the class and answer our questions." – Sr. Manufacturing Engineer, Global Filtration Solutions Provider.

"The course has equipped me with an insightful approach to product development for my existing and potential customers." – Commercial Account Manager, Global Nonwovens Producer.

"A great, comprehensive program with knowledgeable instructors." – Sales Manager, Global Fiber Producer

"Great course with lots of practical information." – Senior Technology Program Manager, Global Petrochemical Producer
"Intermediate Nonwovens" will be presented again in August and October of this year while "Spunbond and Meltblown Technology" will be offered again in 2024. NWI and INDA offer a variety of other training programs to facilitate your personal and professional growth. Our next course will be "Nonwoven Product Development & Innovation" June 20-23, 2023, at the Nonwovens Institute on the Centennial Campus of North Carolina State University in Raleigh.
For more information on this and all of our courses including links to registration visit: https://thenonwovensinstitute.com/professional-development/.
To inquire about custom training opportunities with NWI, please email us at nonwovens@ncsu.edu.
NWI is the world's first accredited academic program for the interdisciplinary field of engineered fabrics. Based at the Centennial Campus of NC State University in Raleigh, NWI is an innovative global partnership between industry, government, and academia. NWI has more than 50 member companies/organizations spanning the breadth of the nonwovens value chain.
INDA serves hundreds of member companies in the nonwovens/engineered fabrics industry doing business globally. Since 1968, INDA networking events have helped members connect, innovate and develop their businesses. INDA educational courses, market data, test methods, consultancy and issue advocacy help members succeed by providing them the information they need to better plan and execute their business strategies. INDA Media is the business-to-business publishing arm of INDA and publisher of International Fiber Journal and International Filtration News, which reach a vast network of professionals who employ fibers, filaments, and filtration systems to optimize their application environments. For full information, visit www.inda.org.