NWI Establishes New Facility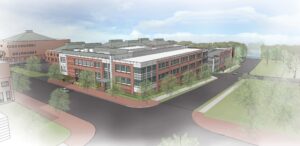 The Nonwovens Institute (NWI), is pleased to announce the establishment of a new facility for SpunMelt and Hydroentangling.
The new facility is made possible through the support received from NC State University and in collaboration with Reicofil, Andritz, Hills, Celli, and others and will represent the most advanced state-of-the-art technologies combined to provide a unique testbed for education and for industry. The facility is being developed by Keystone Corporation via public-private partnership with NC State University. The new facility is planned to open in April 2017.  The equipment installation began in November 2016.
The facility will be housed in a new building on the Centennial Campus at NC State.  NWI will occupy 40,000 s.f. of highbay space.  NWI's headquarters will move to this building on the second floor overlooking the pilot facility.  The rest of the building will have as much as 64,000 s.f. of space available for lease.
The facility wi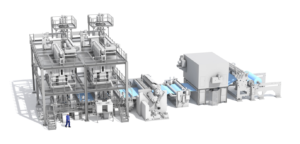 ll house a Reicofil 1.0 meter wide bicomponent RF®4 spunbond line with the addition of the high-quality equipment from Perfojet and Andritz – including a thermal calender, a hydroentanglement unit, a kiss roll and a through-air dryer. The line will have a fully automated Celli winder with on the fly slitting capability.
This facility complements the recently established meltblowing pilot facility with a stand-alone Reicofil 1.0 meter wide state-of-the-art meltblowing unit with various die configurations – including single-row and multi-row (Biax) die cassettes.
Other capabilities in the facility will include extrusion coating, and other forms of web formation and a full analytical facility. This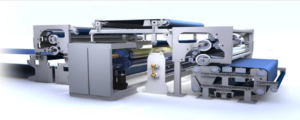 new facility will augment other capabilities at the Nonwovens Institute that include fiber extrusion, coating and lamination, carding, crosslapping, needle punching and chemical modification of nonwovens as well as extensive analytical facilities.
This investment is another demonstration of NWI's commitment to maintaining its leadership position in the inter-disciplinary field of nonwovens; NWI is dedicated to training future leaders for the industry and being a resource to the nonwovens industry.
The Nonwovens Institute is the world's first accredited academic program for the interdisciplinary field of engineered fabrics. Based at the Centennial Campus of North Carolina State University in Raleigh, the NWI is an innovative global partnership between industry, government and academe. Operating on an "Open Innovation" platform, the Nonwovens Institute engages experts from industry and higher education in building next-generation nonwoven applications while also providing training and guidance to the field's future leaders.
NWI receives approximately $8-10 million per year in memberships, private research, pilot operations, analytical services and product development.  NWI supports over 50 graduate students at NC State and its partner institutions.  .
Reifenhäuser Reicofil, a member of the Reifenhäuser Group, is the global leading provider of complete nonwoven, meltblown and composite lines. With its technologies, innovative spirit and know-how along the entire value chain, Reicofil enable their customers worldwide to produce nonwoven fabrics economically, reliably and sustainably in hygiene, medical, filtration and industrial applications. The company employs approximately 200 employees at its location in Troisdorf. Managing Director is Dr. Bernd Kunze.
The ANDRITZ GROUP is a globally leading supplier of plants, equipment, and services for hydropower stations, the pulp and paper industry, the metalworking and steel industries, and solid/liquid separation in the municipal and industrial sectors. ANDRITZ Nonwoven combines the expertise of three leaders in the nonwovens industry with long-standing and successful traditions: Asselin-Thibeau, Küsters, and Perfojet. The key competences lie in needlepunch, spunlace, wetlaid, wetlace, spunbond, spunjet, and finishing technologies.