NWI at the 2022 RISE® Conference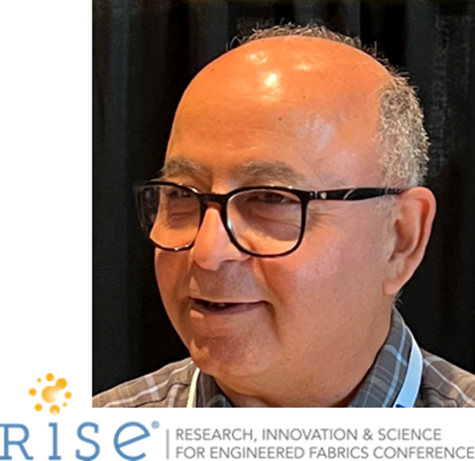 At the 2022 RISE® (Research, Innovation and Science for Engineered Fabrics) conference held on the NC State campus September 27-28, Nonwovens Institute (NWI) Executive Director Professor Behnam Pourdeyhimi spoke regarding work undertaken at NWI to expand the use of renewable materials in the production of nonwoven fabrics; focusing upon the opportunities for new products based on Poly Lactic Acid (PLA) based polymers and PLA blends with other biopolymers.  The presentation covered work conducted by Dr. Hamid Ebrahimi of Eastman Chemical, Professor Pourdeyhimi and Dr. Benoit Maze of NWI.  
Dr. Ebrahimi received his PhD in Fiber and Polymer Science from NC State in 2021.
PLA-based polymers have been an alternative to predominantly petroleum-based polymers such as polypropylene and polyethylene for a number of years.  Enhancements in fabric performance including improved thermal and mechanical properties can be achieved through blending PLA with other biopolymers such as PDLA, PBS, PHA and others while maintaining the attractive sustainability benefits of the base PLA.  In addition to discussing the improvements attainable through blending these polymers, Professor Pourdeyhimi highlighted practical processing parameters essential for the conversion of PLA / PLA blends to useful nonwoven fabrics.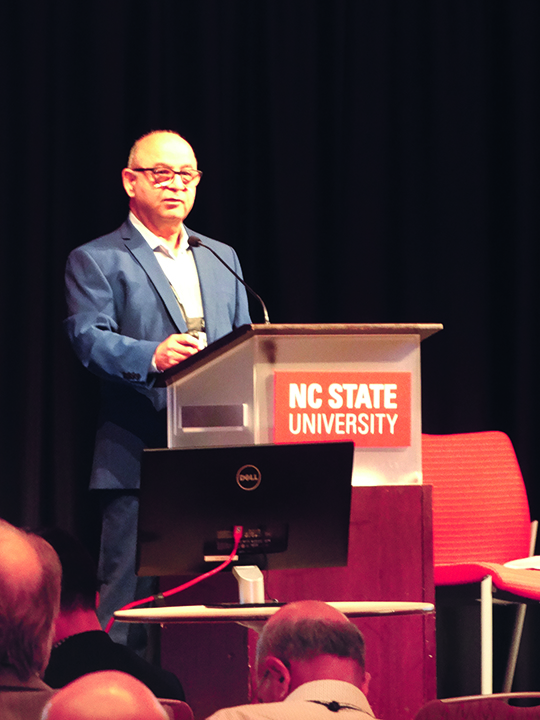 RISE returned to an in-person format this year and was held at the Talley Student Union on the Campus of NC State.  Over 135 industry product development and technology scouts in nonwovens & engineered materials shared their ideas around innovation with a strong focus on sustainability. RISE is organized by INDA – the Association of the Nonwovens Industry – which serves hundreds of member companies in the nonwovens / engineered fabrics industry doing business globally. Since 1968, INDA networking events have helped members connect, innovate & develop their businesses. INDA educational courses, market data, test methods, consultancy & issue advocacy help members succeed by providing them with the information they need to better plan & execute their strategies. INDA Media is the business-to-business publishing arm of INDA and publisher of International Fiber Journal and International Filtration News, which reaches a network of professionals who employ fibers, filaments, and filtration systems to optimize their applications. www.inda.org