News and Notes
NWI adds state-of-the-art Orion slitter/rewinder system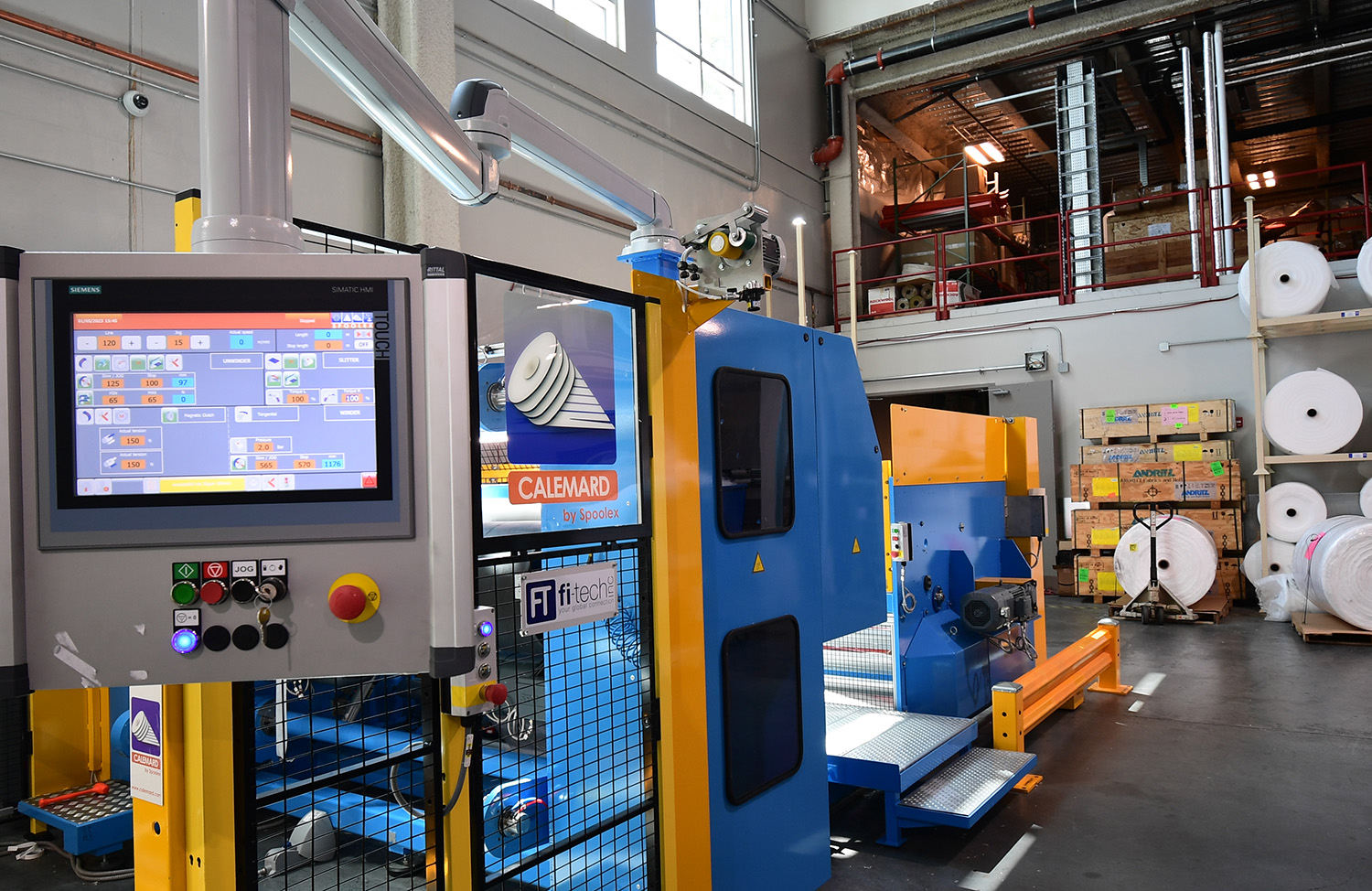 The Nonwovens Institute is pleased to announce our state-of-the-art Orion slitter/rewinder system is now available for developmental and commercial use.
"We have completed installation and commissioning and are now ready to support our customers including NC State researchers and the broader nonwovens industry," said Angelo Corino, Research Engineer and Manager of NWI's Pilot Manufacturing Facilities.
"Most finished articles using nonwovens require fabric widths much smaller than even pilot-line production," said NWI Deputy Director Tom Daugherty. "The new equipment expands NWI's capability by readily allowing us to slit fabrics to custom widths as needed for end-use products; whether those fabrics were made on NWI's equipment or elsewhere."
Daugherty added, "Whether for product development or early/small-scale commercial deployment, we believe there is a strong industry need for this capability. NWI is ready to meet that need."
The new equipment, manufactured by Calemard® by Spoolex, was designed to handle a wide variety of nonwoven roll-goods, including Spunbond, Meltblown and Carded/Needle Punched Staple Fibers up to 1.8-meters wide/1.2-meters in diameter and can slit product (material dependent) into widths down to 30-mm.(1)
Given the wide variety of products that could be run, the key to being so versatile is in the expertise found at Spoolex in precision tension control, thereby allowing for the highest product quality and versatility. "For over 40 years, Spoolex, through its well-known Calemard® brand, has been the expert in manufacturing slitter-rewinders and spooling lines," said Todd Bassett, Managing Director at Fi-Tech, Inc., an NWI member and North American manufacturer's representative for Spoolex. Fi-Tech managed the installation of the equipment and supported all of the commissioning activities.
"The addition of the Orion slitter/rewinder is the latest demonstration of our commitment to bringing state-of-the-art nonwovens processing equipment to both academia and industry," said Dr. Behnam Pourdeyhimi, NWI's Executive Director.
To discuss how your organization can access the Orion slitter/rewinder or any of NWI's advanced nonwovens facilities, contact us at nonwovens@ncsu.edu.
NWI is the world's first accredited academic program for the interdisciplinary field of engineered fabrics. Based at the Centennial Campus of North Carolina State University in Raleigh, NWI is an innovative global partnership between industry, government and academia. NWI has over 45 member companies / organizations spanning the breadth of the Nonwovens value chain. https://thenonwovensinstitute.com
Since 1955, Spoolex is specialized in high-quality converting equipment. Through its well-known Calemard® brand, Spoolex has been designing and manufacturing, spooling lines, slitter-rewinders, turret winders, non-stop winders, splicing benches, in/off line, for tension sensitive materials. https://www.spoolex.com
Established in 1972, Fi-Tech is "your global connection" to the leading manufacturers of complete machines or technical components used in the production of Polymers, Synthetic Fibers, Nonwovens, Textiles, Converting, Perforated Products or in Tobacco Processing. http://www.fi-tech.com
(1) Commercial installations are capable of widths down to 20mm.