NatureWorks Sponsors the 30th Anniversary Celebration for NWI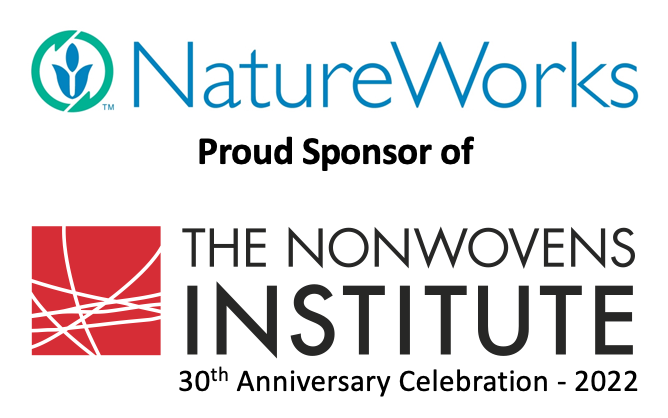 The NWI traces its history back to 1991 when the Nonwovens Cooperative Research Center (NCRC) was established as a State/Industry-University Cooperative Research Center with matching grants from the National Science Foundation (NSF), the State of North Carolina, and several industry partners. NCRC was one of the first five State/IUCRC's funded by NSF which would contribute over $US 2 million over nine (9) years. Dr. Subhash Batra was the Center's originator and first director. He was recognized as the Charles A. Cannon Professor and later Professor Emeritus; both in the Wilson College of Textiles at North Carolina State University. In 1999, NCRC would "graduate" from NSF and become self-sustaining.
In the years that followed NWI continued to respond to the needs of the nonwovens industry with education, research, and industry services that span the range from fundamental research, to proof of concept, to market commercialization. From this emerged services that include (1) a fundamental nonwovens research portfolio where industry member topics are worked by faculty and students, (2) workforce development training courses that offer best-in-class nonwovens training courses for professionals, (3) state-of-the-art nonwoven making and testing labs spanning a range of nonwoven technology platforms (from small, to lab, to large pilot scale) and analytical testing options, (4) confidential contracted technical and expert assistance in new product development to bring about new opportunities, and (5) help to commercialize nonwoven technologies through NWI's manufacturing incubator LINC and subsequently help with technology transfer, building new facilities, and creating supply chains.
NWI is the world's first accredited academic program for the interdisciplinary field of engineered fabrics. Based at the Centennial Campus of NC State University in Raleigh, NWI is an innovative global partnership between industry, government, and academia. NWI has over 45 member companies / organizations spanning the breadth of the Nonwovens value chain. https://thenonwovensinstitute.com
NatureWorks has been a member of NWI since 2006 and is proud to have supported the Institute over the years including through the volunteer efforts of its employees in NWI Leadership roles. Currently, Mr. Joshua Weed, Lead Scientist and Technology Administrative Leader, serves as a member of the Executive Committee of the Industrial Advisory Board which provides membership oversight, program review and policy guidance to the Institute. Other NatureWorks leaders have also served on the NWI Executive Committee, and several NatureWorks technical experts have served as Industrial Advisors on NWI Ph.D. Student nonwovens research projects. Early in the global COVID-19 pandemic, NatureWorks supplied their Ingeo PLA-based polymers that allowed NWI to economically meet the needs for face-mask filter media to serve the NCSU / Raleigh community. The new spunbond nonwoven material developed with Ingeo enabled the production of masks with excellent filtering capability, unparalleled breathability, the opportunity for reuse, and increased the productivity of the spunbond process by at least 30%.
NatureWorks began in 1989 as a Cargill research project looking for innovative uses of carbohydrates from plants as feedstock for more sustainable plastics and quickly matured into the innovative materials for which it is known today. NatureWorks is now a world-leading biopolymers supplier and innovator with its IngeoÔ portfolio of naturally advanced materials made from renewable, abundant feedstocks with performance and economics that compete with oil-based products. These materials also provide brand owners with new circular options after the use of their products. NatureWorks is jointly owned by Thailand's largest chemical producer, PTT Global Chemical, and Cargill, which provides food, agriculture, financial and industrial products and services to the world. https://www.natureworksllc.com
Headquartered in Plymouth, Minnesota, USA and with manufacturing facilities located in Blair, Nebraska, USA, NatureWorks has a name plate capacity of 330 million pounds (150,000 metric tons) of Ingeo biopolymer that is supplied to customers globally. In 2009, NatureWorks opened a state-of-the-art applications development facility in Savage, MN that included facilities for developing the next generation of nonwoven applications with Ingeo. Most recently, NatureWorks announced plans to construct a new fully integrated Ingeo PLA manufacturing complex in Thailand that is planned to open in 2024.
Today, with representatives in over 10 countries, NatureWorks does business in North America, Europe, Japan and Asia Pacific. It continues to work with converters, brandowners and retailers around the world to help introduce naturally advanced products that span multiple industries and categories, including health and personal care; rigid and flexible packaging solutions; food serviceware; durable products in home, appliance, and electronic categories; and 3D printing filament.
NatureWorks product offering includes a variety of PLA-based materials designed specifically for fiber and nonwoven applications. The grade Ingeo™️ 6252D was specifically designed for meltblown applications, such as filtration, using conventional as well as high pressure die meltblown equipment.