ExxonMobil Sponsors the 30th Anniversary Celebration for NWI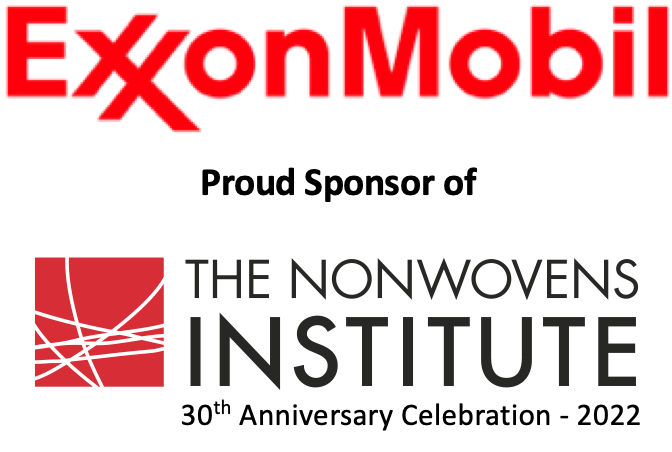 Throughout the latter years of the 1990s and into the new century, the Nonwovens industry experienced significant growth prompted not only by consumer needs and preferences and converter product innovation but also by the advancement of raw materials and process technologies.  These new materials and processes could be run far faster, at finer denier and with a wider variety of resulting fabric attributes than ever before.  By 2007/08, NWI and several member companies began to explore the need to upgrade the "Partners SpunMelt Lab" with facilities that better matched state-of-the-art commercial facilities.  The Global Financial Crisis and subsequent economic downturn would temper initial ambitions but members aligned and pledged their use of a new, world-class Meltblown line.  With these commitments, NWI progressed the establishment of the "Meltblowing Lab" in 2010 with the acquisition of a new, 1.2-meter Reicofil line and associated facilities.  Other, small MB development tools would be added to provide a broad array of learning, research, development, and pilot opportunities.  NWI even added the opportunity for commercial incubation in its labs in 2012.  This incubation capability became extremely important in that it permitted the new $US 7-million investment to be paid off in <2 years; far more quickly than planned.  Use of the facilities for manufacturing incubation had proved to be a viable income stream and would pave the way for the next big step in NWI's evolution.
In the years that followed NWI continued to respond to the needs of the nonwovens industry with education, research, and industry services that span the range from fundamental research, to proof of concept, to market commercialization.  From this emerged services that include (1) a fundamental nonwovens research portfolio where industry member topics are worked by faculty and students, (2) workforce development training courses that offer best-in-class nonwovens training courses for professionals, (3) state-of-the-art nonwoven making and testing labs spanning a range of nonwoven technology platforms (from small, to lab, to large pilot scale) and analytical testing options, (4) confidential contracted technical and expert assistance in new product development to about new opportunities, and (5) help to commercialize nonwoven technologies through NWI's manufacturing incubator LINC  and subsequently help with technology transfer, building new facilities, and creating supply chains.
NWI is the world's first accredited academic program for the interdisciplinary field of engineered fabrics. Based at the Centennial Campus of NC State University in Raleigh, NWI is an innovative global partnership between industry, government, and academia. NWI has over 45 member companies / organizations spanning the breadth of the Nonwovens value chain.  https://thenonwovensinstitute.com
ExxonMobil has been a member of NWI since 2008 and is proud to have supported the Institute  over the years including through the volunteer efforts of its employees in NWI Leadership roles.  Currently, Dr. Derek Thurman, the Global Product Development Technology Manager for the polypropylene, Vistamaxx™ polymers and Exact™ plastomers business  serves as a member of the Executive Committee of the Industrial Advisory Board (IAB) and Dr. Paul Rollin, Global Nonwovens Technology Team Leader, serves on the IAB.  The IAB provides membership oversight, program review and policy guidance to the Institute.  In addition, Dr. Rollin has served as an Industrial Advisor to NWI Ph.D. Students' nonwovens research projects.  Other ExxonMobil leaders have also served NWI in various roles.  Early in the global COVID-19 pandemic, ExxonMobil supplied polypropylene for meltblown and spunbond applications that allowed NWI to economically meet the needs for face-mask filter media to serve the NCSU / Raleigh community.
ExxonMobil affiliates have been part of the nonwovens industry since the mid-1960s when its researchers led by the late Dr. Robert Buntin developed the first commercially viable meltblowing technology.   Since then, ExxonMobil has maintained a leadership position in the supply of polymers for hygiene, personal care, medical and industrial nonwoven applications including ExxonMobil™ polypropylene, Achieve™ Advanced PP, and Vistamaxx™ performance polymers.   Exceed™ XP, Exceed™ and Enable™ performance PE polymers produce thin backsheet films that are comfortable, strong and secure as well as high integrity compression packaging films with superb shelf appeal.  Escorez™ tackifying resins, Vistamaxx™ performance polymers and Escorene™ Ultra ethylene vinyl acetate (EVA) copolymer resins are used in hot melt adhesives for packaging, hygiene and assembly applications.  https://www.exxonmobilchemical.com/en/solutions-by-industry
Most recently, a collaboration between the Company and Reifenhäuser Reicofil yielded a new breakthrough solution to affordably produce nonwoven fabrics with lofty thickness, ultra-cushiony cotton-like softness, and a silk-like smooth touch in one step from pellet to nonwoven via a high-speed spunbond process.
https://www.exxonmobilchemical.com/en/resources/library/library-detail/87097/6159-reicofil%20case%20study%20factsheet_js
In addition, ExxonMobil affiliates supply materials essential for the production of hygiene article construction adhesives as well as high-performance lubricants to assure efficient operation of processing and product-conversion machinery as well as fuels and lubes to support product transportation and logistics.  www.exxonmobil.com