Bryan Haynes Named Vice-Chair – Strategic Scientific Advisory Board
On May 24, 2022, Dr. Bryan Haynes was elected as Vice-Chair of the Strategic Scientific Advisory Board of the Nonwovens Institute (NWI) at North Carolina State University.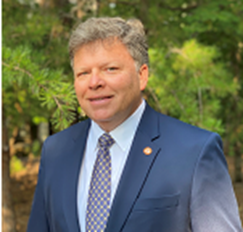 Dr. Haynes received his B.S. and M.S. in Aerospace Engineering and Ph.D. in Mechanical Engineering from the University of Tennessee at Knoxville. During his graduate studies, Dr. Haynes specialized in the aerodynamics and polymer processing of the meltblowing process which was funded by Exxon Chemical Company. He taught full-time in the Department of Mechanical and Aerospace Engineering prior to joining Kimberly-Clark Corporation as a Research Scientist in 1992. While working at Kimberly-Clark Corporation, Dr. Haynes has held various positions in research and engineering including an assignment at the Lexington Mill in North Carolina serving as the Technical Team Manager. Dr. Haynes has published several papers and has obtained 44 U.S. Patents and 16 Trade Secrets during his Kimberly-Clark career.
He currently holds the position of Senior Technical Director for Global Nonwovens. Prior to his current role, he served as the Director of Research and Engineering in Global Nonwovens where his team was responsible for the front-end innovation portfolio and prototyping capabilities including the pilot facilities supporting Kimberly-Clark's various businesses. Dr. Haynes has received several awards including the Kimberly-Clark Technical Excellence Award, the 2012 Rodney D. Chipp Memorial Award from the Society of Women Engineers, and most recently he received the 2017 INDA Lifetime Technical Achievement Award. He is also an Adjunct Professor at The University of Tennessee in the Department of Mechanical, Aerospace and Biomedical Engineering. He serves on several Industrial Advisory Boards including Materials Science and Engineering at the Georgia Institute of Technology; Chemical, Materials and Biomedical Engineering at the University of Georgia; in addition to his role at the Nonwovens Institute at N.C. State University. He also serves on the Board of Directors as Secretary for Georgia FIRST which is a non-profit organization that supports STEM programs in Georgia.
The Strategic Scientific Advisory Board manages the Nonwovens Institute's project portfolio to reflect the long-term research interests of the Institute and its member companies.  The board strives to create a balanced research portfolio and to develop a depth of technical knowledge.  Key current efforts include:
Definition of technical vision as well as challenges and knowledge gaps for the Institute,
Portfolio management to ensure balance across the Institute's five research thrust areas (Materials, Extrusion, Engineered Structures, Modeling, and Sustainability), and
Assuring that the resulting portfolio of programs and results enables industry value creation.
NWI is the world's first accredited academic program for the interdisciplinary field of engineered fabrics. Based at the Centennial Campus of NC State University in Raleigh, NWI is an innovative global partnership between industry, government, and academia. NWI has over 45 member companies/organizations spanning the breadth of the Nonwovens value chain.  https://thenonwovensinstitute.com
Kimberly-Clark and its trusted brands are an indispensable part of life for people in more than 175 countries. Fueled by ingenuity, creativity, and an understanding of people's most essential needs, the company creates products that help individuals experience more of what's important to them. Kimberly-Clark's portfolio of brands, including Huggies, Kleenex, Scott, Kotex, Cottonelle, Poise, Depend, Andrex, Pull-Ups, GoodNites, Intimus, Neve, Plenitud, Sweety, Softex, Viva and WypAll, hold the No. 1 or No. 2 share position in 80 countries. The company uses sustainable practices that support a healthy planet, build stronger communities, and ensure the business thrives for decades to come. To keep up with the latest news and to learn more about the company's 150-year history of innovation, visit kimberly-clark.com