Best Paper Awards – May 2022 IAB
Bringing together the best of both industry and academia is a hallmark of The Nonwovens Institute (NWI).  Located in the heart of the vibrant Centennial Campus of North Carolina State University in Raleigh, NWI is an innovative global partnership between industrial practitioners and academia resulting in unique opportunities for graduate students across a variety of technical disciplines at the University.  As noted by Dr Megaridis located at UIC, one of NWI's extended academic colleagues who led the Institute's 2020 5-year Review, "Students commented upon the strength of the faculty associated with NWI and the linkage between industrial members of The Institute and their research work."  Students commented that "NWI offers us an opportunity to work with 'real world' experts and technical leaders to a far greater degree than our peers."
One of the most important functions of NWI's Industrial Advisory Board (IAB) is the review of graduate student projects at its' bi-annual meetings.  Here, technical experts from across the industry listen to and provide feedback upon student presentations regarding their research.  Each of the students is also mentored during their studies by at least one representative from NWI member companies.  Recently, three students were recognized by the IAB for their outstanding work.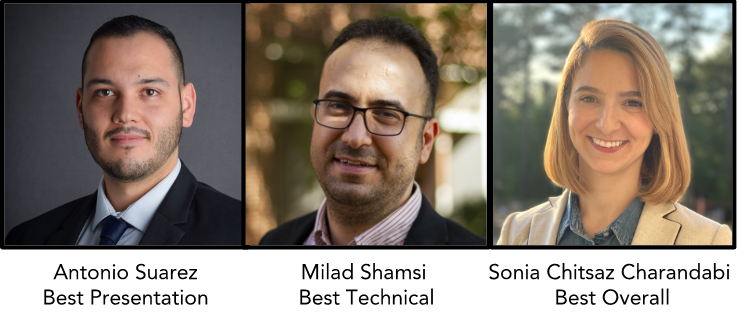 BEST PRESENTATION AWARD – Antonio Suarez, "Understanding the Sustainability Conversion Economics and Performance of Bio-Polyethylene for Nonwovens"
 Antonio received his Doctorate Degree in the field of  Forest Biomaterials within the College of Natural Resources in June 2022.  https://cnr.ncsu.edu/fb/ His presentation focused on the sustainability, economics, and end-use performance of polyethylene produced from renewal feedstocks in nonwoven applications.  Sustainability is one of the key issues facing the nonwovens industry as it works to balance performance and convenience for consumers with the impact upon the environment.
In his work, Antonio assessed the technologies available to produce bio- polyethylene from ethanol, evaluated the environmental impact of bio-polyethylene produced from bio-ethanol in Brazil through a Life-Cycle Analysis  (LCA) and identified the main contributors to the environmental impact of bio- polyethylene produced in Brazil.   Antonio is a student of Professor Ronalds Gonzalez and is mentored by Dr. DeeAnn ("Dee") Nelson of Avgol Nonwovens, Drs. Carl Wust and Xing Dong of FiberVisions and Dr. Liyun Ren of 3M.  Both Avgol and FiberVisions are Indorama Ventures companies.
Antonio is currently a Life Cycle Assessment Scientist at WestRock Company.
 BEST TECHNICAL AWARD – Milad Shamsi, "Fundamental Study of Thermoplastic Elastomers"
 Milad is pursuing his Doctorate Degree in the field of  Chemical Engineering within the Department of Chemical and Biomolecular Engineering, College of Engineering.  https://www.cbe.ncsu.edu His presentation focused upon the utility of a class of polymers known as Thermoplastic Elastomers (TPEs) which are especially valuable for their ability to impart functional elasticity to nonwoven fabrics.
In his work,  Milad studied the effect of process parameters on fibers produced from thermoplastic elastomers (TPEs), developed an understanding of the impact of various additives and characterized the performance properties of the TPEs fibers.  Milad is a student of Professors Michael Dickey and Richard Spontak and is mentored by Dr. John Flood of Kraton Polymers, Dr. Perry Pontis of Owens & Minor and Dr. Yijian Lin of Dow.
Milad anticipates a December 2022 graduation and is currently pursuing employment opportunities.
BEST OVERALL AWARD – Sonia Chitsaz Charandabi, "Hybrid Particle Loaded Nonwovens; Limits and Properties
Sonia is pursuing her Doctorate Degree in the field of  Polymer & Fiber Science within the College of Textiles.  http://catalog.ncsu.edu/graduate/textiles/fiber-polymer-science/  Her presentation focused upon the process-structure properties of meltblown particle-loaded hybrid nonwovens
In her work,  Sonia developed an understanding of nonwoven formation and particle capture mechanisms through the melt blown co-form process, established a structural framework to study the interaction between the functional particle and nonwoven web, mapped properties of such products and provide key learnings for potential improvements, and introduce a new class of materials.  Sonia is a student of Dr. Benoit Maze of NWI and is mentored by Dr. SA. Ravishankar of St Gobain, Dr. Holly Rauckhorst of Proctor & Gamble; Dr. Francis Porbeni of 3M, Dr. Andrew Yip of Adidas and Dr. DeeAnn ("Dee") of Avgol Nonwovens; an Indorama Ventures Company and Dr.Abhay Joijode of Berry Global.
Sonia anticipates an August 18th, 2022 graduation and will join Mann+Hummel as an Innovation Project Manager in September
NWI, its Leadership, Faculty and Membership congratulates each of these outstanding students and wishes them well in their future endeavors.
NWI is the world's first accredited academic program for the interdisciplinary field of engineered fabrics. Based at the Centennial Campus of NCSU in Raleigh, NWI is an innovative global partnership between industry, government, and academia. NWI has over 45 member companies / organizations spanning the breadth of the Nonwovens value chain.  https://thenonwovensinstitute.com  NWI supports over 50 Masters- and PhD-level students pursuing advanced studies in fiber and polymer science, chemical and bimolecular engineering, wood and paper science, textile engineering, color chemistry and other disciplines.
https://thenonwovensinstitute.com/education/graduate/