American Truetzschler Inc. Sponsors the 30th Anniversary Celebration for NWI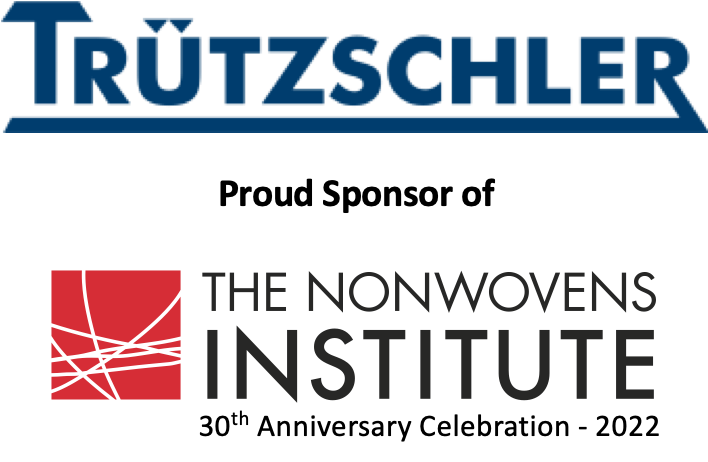 Following the elevation of NWI to University Institute status, NWI continued to expand its interdisciplinary university-wide activity that touched at least three academic Colleges and more than seven Departments.  In addition, growth continued with a 2008 investment of US$ 5 million in the NWI Staple Fiber Lab to extend capabilities into another major class of nonwovens.  A 1-meter wide pilot production facility was added which included Trützschler feeding and carding systems, together with Andritz crosslapping and needle-punching and a Fleissner heated oven, and a winder.  These facilities permitted production of carded nonwoven structures bonded via needlepunch and/or a heated oven.  Thermal calendar or hydroentanglement bonding could be done offline.
At this point in 2008, NWI had grown to include over 68 members across the industry value chain from material suppliers and equipment manufacturers to fabric producers, fabricated article converters and consumer products companies / other end-users.   The student population in 2008 had grown to over 20 PhD candidates being supported by the Institute and the associated faculty numbered over 15.  The next phase of contemplated growth was to be dramatic.  But the on-coming Financial Crisis and associated industry downturn would temper near-term aspirations.
Over the years NWI has continually responded to the needs of the nonwovens industry with education, research, and industry services that span the range from fundamental research, to proof of concept, to market commercialization.  From this emerged services that include (1) a fundamental nonwovens research portfolio where industry member topics are worked by faculty and students, (2) workforce development training courses that offer best-in-class nonwovens training courses for professionals, (3) state-of-the-art nonwoven making and testing labs spanning a range of nonwoven technology platforms (from small, to lab, to large pilot scale) and analytical testing options, (4) confidential contracted technical and expert assistance in new product development to about new opportunities, and (5) help to commercialize nonwoven technologies through NWI's manufacturing incubator LINC  and subsequently help with technology transfer, building new facilities, and creating supply chains.
NWI is the world's first accredited academic program for the interdisciplinary field of engineered fabrics. Based at the Centennial Campus of NC State University in Raleigh, NWI is an innovative global partnership between industry, government, and academia. NWI has over 45 member companies / organizations spanning the breadth of the Nonwovens value chain.  https://thenonwovensinstitute.com
American Truetzschler Inc. has been a member of NWI since 2009 and is proud to have supported the Institute over the years including through the volunteer efforts of its employees in NWI Leadership roles.  Currently, Mr. Lothar Kaierle, Vice President of Sales for the Nonwovens Sector at Truetzschler serves as a member of the Executive Committee of the Industrial Advisory Board (IAB).  The IAB provides membership oversight, program review and policy guidance to the Institute.   As noted above, Trützschler equipment is essential to the operation of NWI's staple fiber lab.
Founded in 1969 as the first foreign subsidiary of the German textile machinery manufacturer Trützschler Group SE with its headquarters in Charlotte, NC and more than 100 employees, it covers the important textile markets in the US & Canada. Truetzschler USA manufactures a significant portion of Trüetzschler product line for the traditional textile and nonwovens industries as well as the carpet yarn sector.
In the nonwovens sector Trützschler offers the full range of Nonwoven applications incl. complete Trützschler Lines from opening, blending, carding, hydroentangling, drying and winding. Just recently, Trützschler Nonwovens & Man-Made Fibers GmbH started a cooperation with the Italian textile machinery manufacturer Texnology S.r.l. in the field of needle-punching technology. With immediate effect, the companies will offer complete production lines for needle-punched nonwovens under the name of T-SUPREMA. Trützschler Nonwovens contributes its many years of experience in fiber preparation and web forming to the cooperation. Texnology is mainly responsible for the needle-punching process. Joint projects can thus build on a broad application expertise. Thanks to this new partnership, Trützschler Nonwovens is able to serve this interesting market segment with precisely fitting production lines. With T-SUPREMA needle-punching becomes as easy as ever before. For more information visit www.truetzschler.com and https://www.truetzschler.com/en/nonwovens/